All you need to know about the Dalit scholar suicide row
A Dalit scholar's suicide in Hyderabad triggered nationwide protests with students and activists demanding resignations of Union ministers Smriti Irani and Bandaru Dattatreya on Tuesday for allegedly driving Rohith Vemula to commit suicide.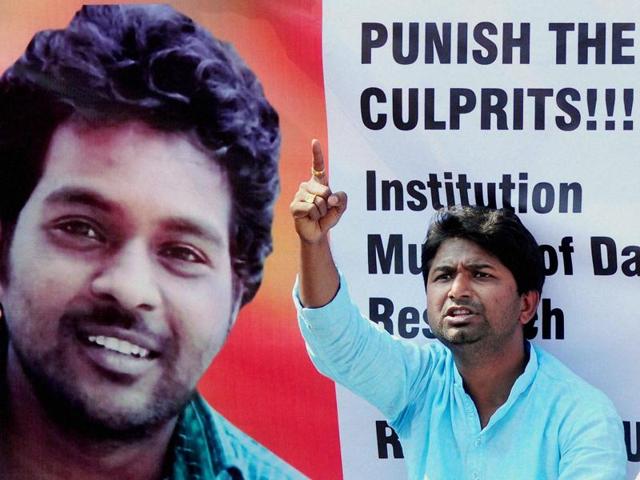 Updated on Jan 20, 2016 02:52 PM IST
Hindustan Times |
, New Delhi
HT Correspondent
A Dalit scholar's suicide in Hyderabad triggered nationwide protests with students and activists demanding resignations of Union ministers Smriti Irani and Bandaru Dattatreya on Tuesday for allegedly driving PhD student Rohith Vemula to commit suicide.
26-year-old Vemula committed suicide on Sunday night. He was among the five research scholars who were suspended by the Hyderabad Central University in August last year over an alleged assault case. They were also kept out of the hostel.
The five were allegedly suspended after BJP leader Bandaru Dattatreya wrote a letter to HRD minister Smriti Irani, describing the university as a "den of casteist, extremist and anti-national politics".
Based on the recommendations of a sub-committee of the executive council, the five were denied access to hostels on the campus except their classrooms and workshops related to their subject of study.
Rohith was found hanging at the Central University's hostel room in the campus on Sunday, triggering protests from students since Sunday.
Police booked Dattaterya, the vice-chancellor of University of Hyderabad and two members of the right-wing Akhil Bharatiya Vidyarthi Parishad (ABVP) on Monday for abetment of the suicide and violation of the scheduled castes and scheduled tribes (prevention of atrocities) Act.
Read | Union min Dattatreya charged for Dalit scholar suicide, probe ordered
This may be the first case to be tried under the revamped Act, 2015 -- the new law clearly stating that "social or economic boycott" of Dalits or tribals is a punishable offence which can invite a jail term of up to five years.
The HRD ministry also said it has sent a committee to Hyderabad to inquire about the incident and it is expected to submit a report soon, while the National Commission for Scheduled Caste chairman warned on Tuesday that the agency will keep a close watch on the investigation's progress and will not hesitate to summon officials to ensure "a quick and fair inquiry".
Accusations
The university students' Joint Action Committee termed the suicide as "institutional murder" while opposition parties slammed the BJP-led NDA government for having an "anti-Dalit agenda and mindset".
An umbrella organisation of the Hyderabad University launched an indefinite strike and sought the resignation of vice chancellor Appa Rao. Vemula's mother, also protesting at the campus, said she wouldn't move until Rao explained the reasons behind suspending her son.
Dozens of activists of the Telangana Jagruti Yuva Morcha, considered the cultural wing of the ruling Telangana Rashtra Samithi (TRS), held a demonstration outside the residence of Dattatreya in Ramnagar, Hyderabad.
Read | Dalit scholar suicide: Students launch strike, seek VC's ouster
Water cannons were used to disperse members of student organisations in Delhi, demonstrating in front of the HRD ministry office in Shashtri Bhawan on Tuesday. Students of the Film and Television Institude of India in Pune and Mumbai University also staged protests.
Noted writer Ashok Vajpeyi also returned the D Lit, awarded to him by the Hyderabad Central University, to protest against death of the 26-year-old doctorate student.
Opposition ammo
Congress vice-president Rahul Gandhi addressed students in Hyderabad on Tuesday and said "conditions" for the Dalit student's suicide were created by minister of state Dattatreya and the institute, and failure to "provide him justice will be failing to show him respect".
Read | Dattatreya created 'conditions' for Dalit student's suicide: Rahul
Aam Aadmi Party leader Arvind Kejriwal also stepped up attack on the Modi government. "It's not suicide. It's murder. It's murder of democracy, social justice n equality. Modi ji shd sack ministers n aplogoize to the nation," the Delhi chief minister tweeted early on Tuesday.
"I request the BJP not to play dangerous political games with students," RJD chief Lalu Prasad Yadav said in a tweet, adding that BJP and RSS' casteist agenda led to Rohith's death.
The other side
The Centre, however, rubbished opposition charges and blamed the Congress party of politicising the issue, maintaining that the suicide had nothing to do with Dattatreya's letter to Irani.
Earlier, BJP general secretary P Muralidhar Rao alleged that Vemula's suicide has been made into a political issue by "Congress, a section of media and some groups with vested interests".
The accused BJP MP Bandaru Dattatreya refuted accusations against him: "I have nothing to with this incident (suicide) or suspension of students."
The BJP too defended their sole representative in the Union cabinet from Telangana as the its state spokesperson Krishna Sagar Rao said the minster was in no way responsible for the suicide. "Dattatreya has not been named in the suicide note," he added.
As the controversy erupted, HRD minister Smriti Irani said, "Don't want to make political statement. My condolences to family of deceased. Government doesn't intervene in the administration of universities. Two-member fact finding team will submit report on this."
Read | Dalit scholar suicide: BJP rejects demand for axing Dattatreya, Irani
Close Story
Personalise your news feed. Follow trending topics