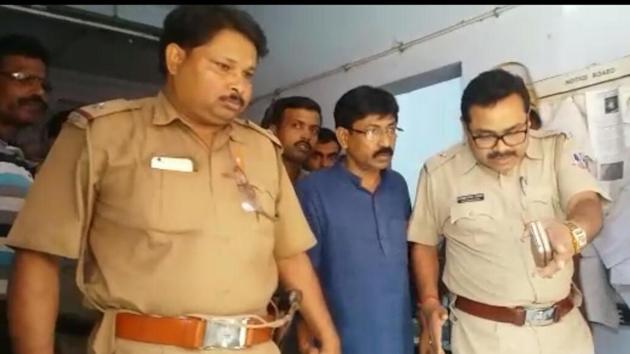 Mukul Roy's brother-in-law arrested in 6-year-old case, days ahead of Bengal rural polls
Srijon Roy was arrested for allegedly taking Rs 3 lakh each from a few people on the promise of giving them jobs in the railways in 2012, when Mukul Roy was the Railways minister briefly.
UPDATED ON MAY 05, 2018 05:19 PM IST
In a move that is bound to trigger a political row, the West Bengal Police have arrested the brother-in-law of Bharatiya Janata Party (BJP) leader Mukul Roy on complaints filed six years ago.
Srijon Roy was arrested from Delhi on Friday and brought to Kolkata the next day, in connection with complaints lodged in 2012 against him in more than one police station for taking Rs 3 lakh each from a few people on the promise of giving them jobs in the railways, according to police officers who spoke on condition of anonymity.
Mukul Roy was the railway minister from March 20 till September 21, 2012, when Trinamool Congress decided to walk out of the UPA II government at the Centre.
Mukul Roy is now the nodal leader of the BJP in the upcoming panchayat elections in the state.
The arrest of Srijon Roy is likely to trigger a political controversy in the state, where the acrimony between the BJP and Bengal's ruling Trinamool Congress has reached a peak over the panchayat polls.
The elections, the last pan-Bengal exercise that will test the popularity of different parties before the 2019 Lok Sabha polls, are a high-stake game for both the parties.
Police have slapped several charges under IPC sections 420 (cheating and dishonestly inducing delivery of property), 406 (punishment for criminal breach of trust), 468 (forgery for the purpose of cheating), 471 (using as genuine a forged document), 472 (making or possessing counterfeit seal) and 34 (acts done by several persons in furtherance of common intention) against Srijon Roy.
He was produced in a court in Barasat on the outskirts of Kolkata on Saturday and sent to 12-day police custody.
Mukul Roy lashed out at the police for arresting his brother-in-law, saying it was a conspiracy against him.
"The complaint was lodged in 2012. If there is an allegation of extorting money promising railway jobs, it should have been investigated by the CBI. A conspiracy is brewing to stop Mukul Roy in his tracks. I am the real target," alleged the 64-year-old BJP leader.
Mukul Roy was the general secretary of Trinamool Congress for a number of years before he joined the BJP in November 2017.
Trinamool leaders have lashed out at him repeatedly and described him as a turncoat and betrayer.
Close