Muslims forego Muharram procession to fund cancer treatment of Hindu man in Bengal
Hindustan Times, Midnapore |
, Midnapore
Koushik Dutta
Oct 05, 2017 05:38 PM IST
Samaj Sangha Club in Kharagpur's Puratan Bazar will raise Rs 50,000 for Abir Bhunia (35), who is suffering from Hodgkin's lymphoma.
Muslims in West Bengal's Kharagpur have decided to cancel Muharram procession this year and donate the money for the treatment of a Hindu neighbour, who is a cancer patient.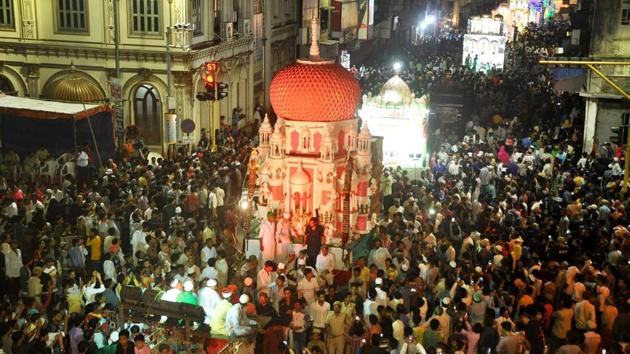 Samaj Sangha Club, which organises Muharram procession in Kharagpur's Puratan Bazar, will raise Rs 50,000, the amount needed for the celebration, for Abir Bhunia (35), a mobile recharge shop owner who is suffering from Hodgkin's lymphoma, a cancer of the immune system. They have already given him Rs 6,000.
Bhunia is undergoing chemotherapy at Saroj Gupta Cancer Centre in the southern fringes of Kolkata and needs Rs 12 lakh for a treatment that includes bone marrow transplantation.
"Muharram processions can be organised every year. But we have to save the life first," said Amjad Khan, secretary of Samaj Sangha.
"We have started raising money. On Friday, after the namaz we will ask the imam in the mosque to announce a donation drive for Abir. We hope to raise a bigger amount than the budget for our procession," said Khan.
An overwhelmed Bhunia is full of gratitude for his neighbours. "I don't know whether I will be cured finally. But what my neighbours did for me have touched my heart," he said.
He lost his grandmother and both parents last year, and lives with his wife, a homemaker, and they are expecting their first child.
Bhunia's neighbour Ranjan Ash pointed out that there were some community Durga Pujas in the locality, but none of them thought of "curtailing their expenditure and help the youth". "We are overwhelmed."
Mohammad Bilal, a member of the Muharram committee of Puratan Bazar, saidGod would be satisfied "if we serve the people". "He is suffering from cancer and fighting with death. We should stand by him."
As word spread of the Muslims' gesture, assistance seems to be pouring in. Pradip Sarkar, chairman of Kharagpur municipality, said they would try to help Bhunia.
Tushar Chowdhury, local councillor from Trinamool Congress, saluted the gesture.
Chowdhury also pointed out that there is a temple for goddess Sitala (worshipped in Bengal as a protector against pox) nearby, for which the Muslim community had raised money to build a gate. He also said that food items offered to the goddess are distributed to Muslims.