Skincare tips: Home remedies to treat facial eczema or atopic dermatitis
Jan 13, 2023 04:07 PM IST
Here are certain tried and tested home remedies that can reduce itching, inflammation and other symptoms of facial eczema or atopic dermatitis
A person with eczema or atopic dermatitis will experience patches of dry, itchy skin that eventually cracks, bleeds or becomes infected and this is generally challenging to treat but according to skincare and health experts, there are certain tried and tested home remedies that can reduce itching, inflammation and other symptoms. Nevertheless, consulting a good dermatologist and adopting a treatment plan personalized to you is the best way forward.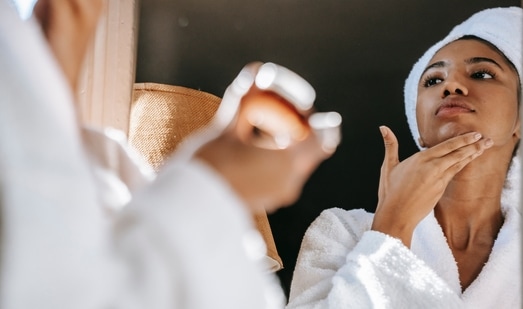 In an interview with HT Lifestyle, Dr Sravya C Tipirneni, Consultant Dermatologist, Cosmetologist and Trichologist at Manipal Hospitals in Bangalore, shared, "The natural way to treat eczema is with organic products and creams, diet and lifestyle changes/management. These help in avoiding eczema flares, mainly in the winter, where the symptoms tend to be the worst. It should be kept in mind that these natural remedies cannot cure eczema but rather they help in managing the symptoms and avoiding flares. Most often, natural substances such as coconut oil and aloe vera gel are used to moisturize the dry, broken skin. Apart from that, they help in reducing swelling by decreasing inflammation and also help in preventing infection by suppressing harmful bacterial growth."
According to her, the topical ways to treat facial eczema include -
1. Apple cider vinegar: It is popularly used as a home remedy for many conditions, including skin conditions such as eczema. The National Eczema Association (NEA) accounts that apple cider vinegar could help with the symptoms. However, the NEA advises exercising caution since the vinegar's acids may damage the soft tissue.
How to use in a wet wrap or a bath: To use apple cider vinegar in a wet wrap -
Mix 1 tablespoon of apple cider vinegar with 1 cup of warm water.
Apply the solution to cotton/gauze.
Cover this dressing in clean cotton fabric.
Place it on the area for 3 hours.
2. Aloe vera: A 2017 systematic review documented the effects of aloe vera on human health. The reports showed that, aloe vera -
Helps heal wounds
Bolsters the immune system
Possess antibacterial properties
Possess antimicrobial properties
3. Colloidal oatmeal: It is also known as Avena sativa. The source of it is from oats that have been ground and boiled. This is then used on the skin for their healing properties. As per a study in 2015, lotions made from colloidal oatmeal showed antioxidant and anti-inflammatory properties, causing reductions in -
scaling
roughness
skin dryness
itch intensity
How to use: Lotions and creams containing noncolloidal oatmeal without additives and fragrances can be considered.
4. Coconut oil: Has beneficial fatty acids that adds moisture to the skin, thus can helps in cases of dry skin and eczema. Apart from that, virgin coconut oil potects the skin by preventing inflammation and enhancing the condition of the skin barrier. A study also found that using the oil for 8 weeks improved the symptoms of eczema in children.
How to use: Use cold-pressed virgin coconut oil to the skin/area affected after bathing and up to several times a day. It would be even suggested to use it before bed to keep the skin moisturized overnight. Note: If you are allergic to coconut oil, it is best to avoid its usage.
5. Honey: When honey is directly to eczema-affected skin, it helps in preventing infections and speeding healing, apart from moisturizing the skin. It is a natural antibacterial and anti-inflammatory agent that has been used for eons!
How to use: By dabbing honey at the affected area for a while. But due to its sticky nature, it would be best to use it a few hours before a bath.
6. Tea tree oil: Produced from the leaves of Melaleuca alternifolia, this oil helps treat skin problems (including eczema). The antibacterial, anti-inflammatory, and wound-healing properties of the oil helps relieving skin dryness and itching (which in turn helps prevent infections).
How to use: By mixing tea tree oil with a carrier oil, like almond or olive oil, it can be directly used to the affected area.
Dr Stuti Khare Shukla, ​​highlighted, "Eczema are of various types but the most common type is known as atopic dermatitis. It is a very common skin condition that causes extremely rough patches of skin, frequently along with reddening and peeling." As per her, in addition to consulting dermatologists for expert medical advice, you can try these simple yet highly effective home remedies:
Making changes to avoid or get rid of whatever is triggering the allergic reaction is the simplest, most efficient treatment. However, try not to count on a prompt response. Eczema is simpler to manage than to treat.
In winters the facial eczema gets triggered, and it's a very common problem amongst children, especially those under the age of 8-9 years old.
This problem has some allergic components, and specially during the winter season, it triggers very much. So a good solution is using oat-meal, which is actually a very natural ingredient which can be used from the kitchen itself. Also, fresh malai which is usually found in the kitchen of every Indian household is a very common method that can be used. It contains natural ingredients which contain a lot of lactic acids, which provide some protection as well as moisturization.
Apart from this, a person who is suffering from facial eczema, they should try to avoid allergy components as much as possible like fragrance and cosmetics that contain a lot of fragrance in it and they should try to use natural ingredients as much as possible.
These are a few remedies that can be used to treat facial eczema but it is best to consult your dermatologist and figure a treatment plan that works best for you. As any overzealous home treatment can cause more harm than good. It is always better to get a professional advise!