Samajwadi Party names 5 more candidates in UP, Mulayam Singh's chhoti bahu not in list
The Samajwadi Party has named Shafiq-ur-Rehman Barq as candidate from Sambhal, from where Aparna Yadav was speculated to contest the Lok Sabha polls.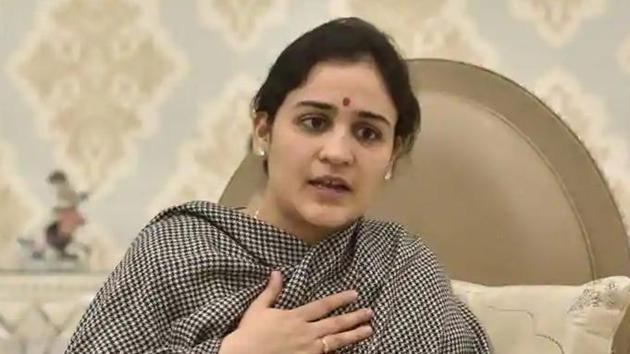 Updated on Mar 15, 2019 06:20 PM IST
The Samajwadi Party (SP) on Friday declared the names of its candidates for five more Lok Sabha seats. Aparna Yadav, the younger daughter-in-law of SP founder Mulayam Singh Yadav, wasn't one of them.
Aparna Yadav was speculated to have been interested in contesting the Lok Sabha election from Sambhal in Uttar Pradesh. Aparna Yadav had fuelled the speculation earlier this week by referring to "rumours" about her being fielded as an alliance candidate from Sambhal.
However, the list released by the Samajwadi Party, which is contesting the Lok Sabha polls in alliance with the Bahujan Samaj Party of Mayawati, named Shafiq-ur-Rehman Barq as its candidate from Sambhal.
Sambhal is an SP stronghold. Mulayam Singh Yadav won the seat twice. Then his brother and SP national general secretary Ramgopal Yadav won it once. Shafiq-ur-Rehman Barq won the Sambhal seat in 2009 as BSP candidate. In 2014, he joined Samajwadi Party.
Aparna Yadav had contested the 2017 UP Assembly polls unsuccessfully at Lucknow Cantt seat. The Yadav family and the Samajwadi Party was caught in a feud when Akhilesh Yadav staked claim on the leadership of the party. Mulayam Singh Yadav, Akhilesh Yadav and his wife Dimple Yadav campaigned for Aparna Yadav but she lost the election.
After Akhilesh Yadav's uncle Shivpal Yadav floated the Pragatisheel Samajwadi Party (Lohia), it was being speculated that Aparna Yadav might switch sides and contest the Lok Sabha polls on the PSPL ticket. She made frequent appearances on political platforms with Shivpal Yadav.
Three names were doing rounds till recently for the Sambhal seat. Besides Aparna Yadav and Barq, Manipuri's sitting MP Tej Pratap Singh Yadav was also in the contention after Mulayam Singh Yadav was nominated from this Lok Sabha seat.
In the other four nominations made by the SP are sitting Rashtriya Lok Dal (RLD) MP Tabassum Hasan from her Kairana seat, Vinod Kumar Singh alias Pandit Singh from Gonda, Ram Sagar Rawat from Barabanki (reserved) and Surendra Kumar alias Munni Sharma from Ghaziabad seat.
At Kairana, Tabassum Hasan is the SP candidate. The SP member was sent to the RLD under the Uttar Pradesh Lok Sabha by-poll pact and contested the Kairana seat on RLD ticket. Now, she has returned to the SP to be the party candidate on the seat.
Under the seat sharing arrangement, Kairana came to the SP, which gave Mathura, Bagpat, and Muzaffarnagar seats of its quota to the RLD. Tabassum Hasan won the Kairan seat in 2009 Lok Sabha polls as BSP candidate. She also won a bypoll from this seat last year.
With this, the party has announced candidates for 16 seats in Uttar Pradesh so far. The SP, which has a seat-share of 37 in its alliance with the BSP and the RLD, has to declare the candidates for the remaining 22 seats of its quota.
On March 8, the SP had declared candidates for nine seats: Dimple Yadav (Kannauj), SP founder Mulayam Singh Yadav (Mainpuri), Purvi Verma (Kheri), Usha Verma Hardoi (reserved), Dharmendra Yadav (Badaun), Akshaya Yadav (Firozabad seat), Kamlesh Katheria (Etawah reserved seat), Bhailal Kol (Robertsganj reserved seat) and Shabbir Balmiki (Bahraich reserved seat).
Mulayam Singh Yadav, Dimple Yadav, Dharmendra Yadav and Akshaya Yadav are sitting MPs. On March 12, the party announced tickets for Ramji Lal Suman from Hathras (reserved) and for Rajendra S Bind from Mirzapur seat.
Close Story