Rahul Gandhi promises right to healthcare law, if Congress voted to power
Congress will roll out a universal Right to Healthcare law, entitling people to free diagnostics and medicines through public hospitals, if it comes to power in the Lok Sabha elections, Rahul Gandhi said.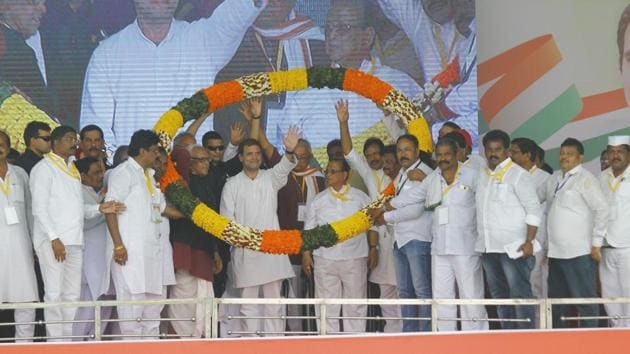 Published on Mar 15, 2019 06:30 AM IST
Hindustan Times, Raipur/New Delhi |
Ritesh Mishra & Rhythma Kaul
The Congress will roll out a universal Right to Healthcare law, entitling people to free diagnostics and medicines through a network of public hospitals, if it comes to power in the summer's general elections, party president Rahul Gandhi said on Friday. The promise will be included in the party's national manifesto, he added.
Speaking at the concluding session of a two-day convention on 'Health for Al'l organised by the Raipur-based Mayaram Surjan Foundation, he added that the party, if voted to power, would more than double government spending on healthcare to about 3% of gross domestic product and expand the number of trained medical professionals to provide high-quality services.
According to the national health profile released in January, the government spends 1.2% of GDP on healthcare, which translated to ₹1,112 per year per citizen in 2015-16, compared with ₹691 in 2009-10. The Congress president, who previously promised a minimum income guarantee for all citizens, also said on Friday that a government led by his party would increase spending on education to 5-6% of GDP.
Former finance minister and head of Congress manifesto committee P Chidambaram later tweeted that the proposed law would provide for an increase in the number of doctors by establishing more medical colleges and providing more scholarships and loans to medical students.
"Government expenditure on the health sector will be doubled between 2019 and 2024 to 3% of the Gross Domestic Product," he tweeted.
The National Health Policy announced by the BJP-led NDA government in March 2017 has been criticized by some analysts for being a watered-down version of the original draft. From health being considered a fundamental right, which was mentioned in the original draft, the revised policy "assured healthcare to all', with the implementation left largely to states, they added.
"There were exhaustive consultations, after which it was decided to mention "assured healthcare to all". Health is ultimately a state subject so the implementation lies with them, but obviously with help from the centre," Union health minister JP Nadda said while detailing the policy.
Experts say it is time the government made healthcare a fundamental right.
"Inadequate infrastructure is no excuse; the government needs to strengthen infrastructure to meet the healthcare needs of people. Public healthcare delivery system must be improved as it is the right of people to get proper treatment. There should be a national law for it," said Ashok Aggarwal a lawyer and an activist.
The previous Congress-led United Progressive Alliance government drafted a policy on health for all that suggested putting in place a national health mission to improve the health infrastructure in the villages and towns of India.
The Congress, before the 2014 general election, promised universal healthcare, saying it would lead to the creation of six million new jobs in the sector by 2020.
Gandhi criticized the Bharatiya Janata Party (BJP)-led National Democratic Alliance government's flagship health insurance scheme Ayushman Bharat, saying the initiative dealt with a limited number of healthcare issues.
"If I want to be kind to it, I see it as a limited scheme which is targeting a very limited number of healthcare issues and, if I want to be frank, I think that it is a handout to the 15-20 richest businessmen in India. This is not the type of scheme which we are going to run...I am absolutely convinced that you need public expenditure in health," he said.
The scheme, billed as world's biggest public health scheme, provides annual health cover of ₹5 lakh per family to 107.4 million poor and vulnerable families (around 500 million people) ,listed in the socio-economic caste census data, for secondary and tertiary care hospitalisation through a network of empanelled hospitals. In first 100 days of Ayushman Bharat, launched on September 23, 2018, around 685,000 people availed of the scheme.
Gandhi said that the private sector and health insurance do have a role to play,but that the foundation for good healthcare has to be provided by the government and the public sector. "Hence I believe that a proper network for healthcare programme should be made in every state," he added.
Responding to his criticism, a Bharatiya Janata Party spokesperson, Sacchinand Upasane, said Gandhi has no moral right to criticize Ayushman Bharat because in the past 60 years the Congress had done nothing towards providing healthcare for the poor.
"Millions of people have benefitted from the scheme and people are appreciating the BJP government for the same," he added.
Close Story