Sarvantara village in UP's Bahraich sees light after 69 years of Independence
Jun 07, 2017 08:15 PM IST
The happiness of the villagers knew no bounds as soon as bulbs at their residences got illuminated at the click of a switch for the first time ever
Sarvantara, a village in Bahraich district of Uttar Pradesh, was in the dark even after 69 years of Independence.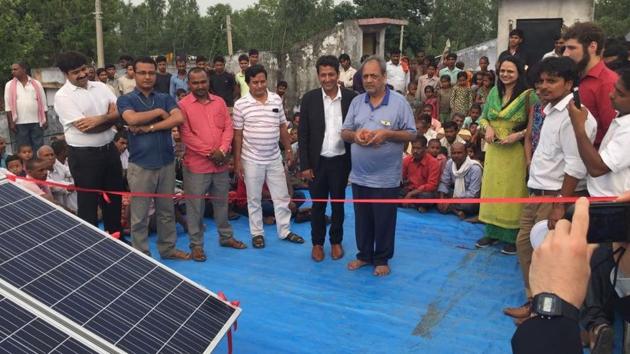 With no electricity network in this Dalit-dominated hamlet, the villagers had to walk distances to nearby electrified villages or the block and tehsil headquarters to charge their cell phones, what to speak of lighting and fans.
But not any longer. On Tuesday evening, they were finally plugged into light with Oorja, a London based social enterprise, launching its 8 kw solar mini grid in the remote Sarvantara village located 46 km north of the Bahraich district headquarters and 159 km from Lucknow, the state capital.
"The installation of the smart DC solar mini-grid that became operational from June 6 will provide affordable lighting, fan and mobile charging to 100 households comprising around 1100 members," Clementine Chambon, chief technology officer and Oorja co-founder with Amit Saraogi, the CEO, told HT over the phone.
The renewable energy, she claimed, will also power pumps to provide irrigation services to farmers, providing significant cost savings over diesel-powered pumps.
Read more:24x7 power supply in UP by 2018: UP CM
The happiness of the villagers knew no bounds as soon as bulbs at their residences got illuminated at the click of a switch for the first time ever.
A large number of men, women and children gathered around the launch site. The first thing they did was rush to plug in their cell phones for charging.
Munna Lal, the village pradhan, said Sarvantara village did not get electricity even after nearly seven decades of Independence though some power infrastructure was recently created in the village. "Today is a very special day for us. Now, we have electricity to fulfill our basic energy requirements like lighting, fan, and mobile charging," he said elatedly.
The plant is made up of 4 kw residential solar panel provided on rooftops in the village and 4 kw solar for irrigation pumps. The households have been provided highly efficient LED bulbs, mobile chargers and fans with the provision for plugging of additional appliances within the next two months.
"The basic tariff, as decided mutually between the company and the villagers who together will own, operate and maintain the system, has been fixed at Rs 130 per month for four bulbs, a mobile charging point. The tariff will increase with the addition of more appliances," Chambon said.
The Rs 20 lakh installation in Sarvantara, according to her, is Oorja's first mini-grid. It is intended as a pilot to test an innovative hybrid energy storage solution, provided by Balance of Storage Systems AG, a German technology provider.
"We also plan installation of hybrid biomass/solar mini-grid that will use agricultural waste and solar PV to provide reliable AC power to business in UP and other states in the time to come," she revealed.
"Exciting news! Hindustan Times is now on WhatsApp Channels
Subscribe today by clicking the link and stay updated with the latest news!"
Click here!