For women mango protectors, it's double the work, half the pay
Updated on May 20, 2018 04:32 PM IST
Sanitation is also more of a struggle, as menstruating women spend hours in the fields; cook, wash and bathe in water from nearby streams.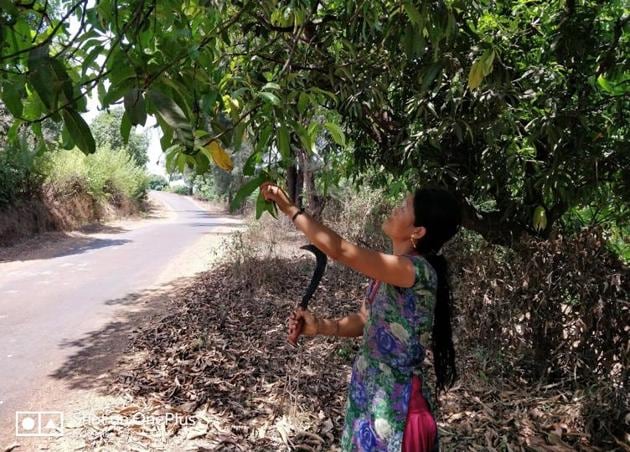 Hindustan Times |
Reetika Revathy Subramanian
Every day, Sarita Thapa, a Rakhwaldar employed in Sathavli village, spends all of her waking hours working. The mother of two children from Kailali district starts her day at 4 am, gathering firewood. Then she cooks some rice, lentils and chicken that she packs as tiffin for her husband who works as a sorter and packer, and for her school-going son.
By 8 am, she has washed the utensils and clothes and headed out to the orchard to watch for monkeys. She returns home at 9 pm, to make dinner. Yet, Thapa is considered a 'helper' and earns less than half the amount earned by her husband.
Her husband earns ₹9,000, while she makes ₹4,000. "My work shifts never really end. Sometimes, I am even forced to skip lunch," says Thapa, who plans to return to her native place in June, and then, come back to Shimla in time for the apple-picking season.
Asked about the wage gap, sarpanch Madhukar Jadhav says, "Women workers do not come on their own, so they are considered Jodidars. They only migrate with their families. So their income only supplements the male worker's earnings."
Besides the wage gap, the women workers also spoke about problems related to hygiene in the open farms, especially during menstruation. "We all stay in the open and cannot afford to miss even a single day at work, both at home and in the farm," says Vishwakarma, who says that there are no toilet facilities.
The workers end up going to the nearby stream to bathe, wash clothes and often, use the same water to drink. "On a rare day or two when I feel very weak, I am forced to send my children to the farm. And in that time, I don't quite rest fully. I am constantly worried about their well-being and safety."