Haseena Parkar movie review: Shraddha Kapoor's film is dull, tedious and jumbled
Haseena Parkar movie review: Apoorva Lakhia designs his film for Shraddha Kapoor that is primarily a courtroom drama where two advocates are cross examining Haseena and some witnesses.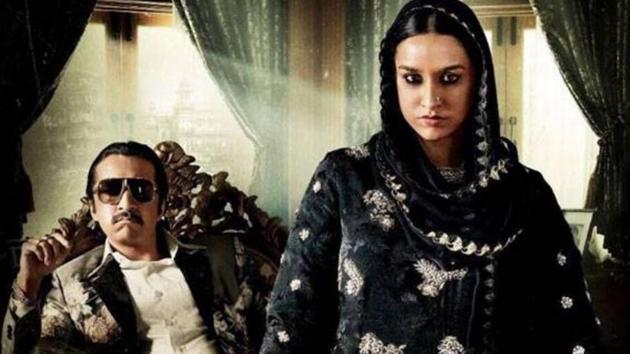 Updated on Sep 23, 2017 01:01 PM IST
Haseena Parkar
Cast: Shraddha Kapoor, Siddhant Kapoor
Director: Apoorva Lakhia
Rating: 1/5
Jise Rs 2000 ka bijli bill nahi samajh aata, use Rs 2000 crore ka business kaise samajh aayega?
This is what Aapa, otherwise known as Haseena Parkar, says in front of the judge at a Mumbai court who seems to be in awe of the Nagpada gangster. This sympathetic tone on part of the director is also some kind of validation for the underworld don known for liasioning and property dealing.
Our Facebook Live discussion on Bhoomi, Hasena Parkar and Newton
Haseena's story begins much before her brother Dawood left Mumbai. The family of 12 kids lives in Dongri with their cop father known for his honesty. Unfortunately for Ibrahim Kaskar, his son rises high in the world of contract killings and extortion. Later, his involvement in the Mumbai blasts of 1993 makes him most wanted in the eyes of the police. This means he needs somebody trustworthy to operate his businesses in the maximum city as he leaves the country. Though the film tries to argue against it, but Haseena is the chosen one to rule Mumbai.
Haseena Parkar chronicles the important events in Aapa's life. As expected, most of it is about Dawood and how they form a good team. She loses her close relatives, including her husband and son, but never leaves Mumbai.
Lakhia suggests similarities in the modus operandi of Dawood and Haseena. They both create a network that promotes a certain kind of brand value. Both, Haseena and Dawood flaunt their love for Mumbai and their people. Both dive into the world of crime to protect their family interests.
Lakhia designs his film primarily as a courtroom drama where two advocates are cross examining Haseena and some witnesses. We see the loss of innocence and birth of dreaded gangsters through flashbacks. But it's not a neutral perspective because Haseena narrates the story and it has to bear her biases. Nothing wrong in this strategy, it's the director's choice but it hampers the objectivity. Basically, we watch just one side of the story, and it looks much mellowed and somewhat glorified.
That's also acceptable if you try, but how do you react to Shraddha Kapoor speaking with padding inside her mouth, a la Don Corleone?
Plus, there are songs like Tere Bina that put you at your wit's end. I get that Haseena was once a nice, homely woman who was scared of marriage, but this much fear on her face might require a doctor.
She chews her dialogues as this is how Bollywood has shown its gangsters talking over the years. Can people change the way they talk after becoming gangsters?
The film shows how Haseena pays the price of being Dawood's sister as if she was clean otherwise. Then there are efforts to present Shraddha as a menacing mob-boss. There she appears a misfit.
The tone of the film is another problem. The director keeps switching between a stylish film and a period film. Not that they can't exist together, but he changes gears so frequently that Haseena Parkar begins to look jumbled.
The only thing that works for the film, to some extent, is the chemistry between Shraddha and Siddhant Kapoor, real life siblings. But in absence of a coherent screenplay, they also become unbearable after a while. Haseena Parkar can't boast of even one performance that's not over the top.
Despite its 124-minute length, Haseena Parkar is a tedious watch. We already know whatever is shown there.
Interact with Rohit Vats at Twitter/@nawabjha
ott:10:ht-entertainment_listing-desktop

Close Story