Beware Mumbai, road accidents will kill 3.21 million Indians between 2016 and 2030: Study
As many as 400 people die on Indian roads every day, reads the report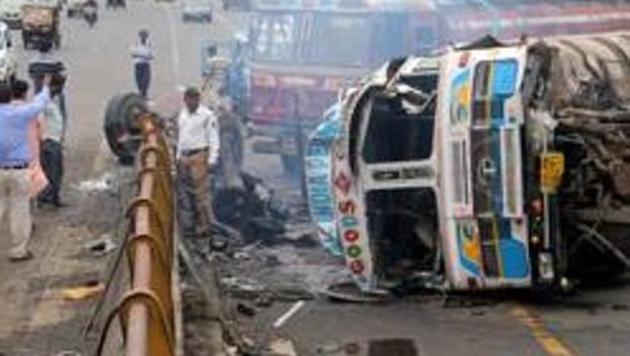 Updated on Jun 13, 2017 01:44 PM IST
Every hour, 17 Indians are killed in road accidents. That's not all, if the government fails to take drastic measures to improve road safety in the country, 32.1 lakh people could die in road accidents from 2016 till 2030, according to a study by the National Institute of Mental Health and Neurosciences (NIMHANS).
The report, Advancing Road Safety in India, compiled in collaboration with the World Health Organisation and Underwriters' Laboratories, estimates the number of road accident fatalities to touch 2.41 lakh in 2030, from 1.75 lakh in 2015.
The analysis of the data from 2005 to 2015 was completed in March and will be submitted to the government soon.
NUMBERSPEAK
Highways, which account for 4.84% of country's roads, contribute to 52.4% of road accidents and 63% of road deaths in India, says the report. "Five states — Karnataka, Tamil Nadu, Kerala, Andhra Pradesh and Maharashtra — collectively account for 46.8% of accidents and 35% of all deaths in the country, and have mortality rates ranging from 15 to 21 people for every 1 lakh — much higher than the national rate," read the study. "Indian roads see 1,374 accidents and 400 deaths daily. The number of people who succumbed to injuries from road accidents shot up to 1.48 lakh in 2015 from 98,254 in 2005."
The numbers, although alarming, are highly under-reported, according to the study. The report states road accident deaths are underreported by 20%, while serious injuries are underreported by more than 50%. "Pedestrian and two-wheeler deaths are grossly under-represented in the national data at 9.5%, compared to 30-40% in other studies," the NIMHANS report reads. "Pedestrians, two-wheeler riders, pillion riders and cyclists account for nearly 80% of road deaths and injuries, which is in contrast to official reports."
SOLUTIONS
The study, which looks at ways to prevent accidents, divides the action plan into pre-crash, crash and post-crash. At pre-crash stage, the study states, the authorities should focus on spreading awareness about rules and ensuring their implementation, while giving better roads and driving condition to motorists. In case of an accident or crash, the roads should have protective equipment to prevent injuries, and first aid, access to doctors, fire prevention and rescue facilities as post-crash devices to reduce fatalities, according to the study.
While the authorities have built facilities such as skywalks and subways to aid pedestrians, people don't use them. Apart from issues related to personal safety and convenience, the facilities are unsuitable for the physically challenged, elderly, pregnant women and children, according to the report.
NEED STRICT ACTION
HT found the Mumbai traffic police penalised only two people for jaywalking in 2016, making them vulnerable to road crashes.
While the report stresses the need for political leaders, policy makers, professionals from various disciplines, industry leaders to take urgent measures to stop the trend, it emphasizes on stricter enforcement of laws related to seat belt, child restraint, speeding and drink driving.
Close Story
Personalise your news feed. Follow trending topics