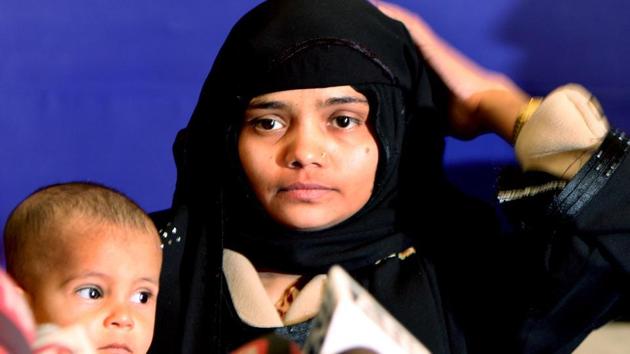 Bilkis Bano was neither tutored nor manipulated, says Bombay high court
The defence was appealing against the conviction of the 11 men found guilty of raping Bilkis Bano and murdering her family
UPDATED ON MAY 05, 2017 09:21 AM IST
The Bombay high court, hearing the 2002 Bilkis Bano gangrape case, did not take into consideration the key contention of the defence — that differences in the statements Bilkis had recorded at Limkheda police station on March 4, 2002 and the one she recorded before then Godhra collector and district magistrate Jayanti Ravi on March 6, 2002 meant that she had been tutored.
The defence was appealing against the conviction of the 11 men found guilty of raping Bilkis Bano and murdering her family.
The bench noted, "It also cannot be lost sight of that as the investigation by Gujarat police was not proper, the prosecutrix approached the Supreme Court and the Supreme Court transferred the investigation to CBI. Looking to all these facts, we hold that the FIR was not correctly recorded and facts have been suppressed and twisted therein."
To debunk the theory that Bilkis' statement before Jayanti Ravi, which went on to become key evidence in the case, was the result of tutoring, the bench noted Bilkis was made to stay at the police station through the night on March 4, and observed that "almost all relatives of Bilkis had been killed, in such a case, she would not dare to leave the safety of the police station and go outside with some unrelated persons". It found no merit in the defence's theory that she was taken out of the police station on March 5, and was tutored to falsely implicate the accused.
The court went on to explain at length section 157 of the Evidence Act to make Bilkis' statement before Jayanti Ravi admissible.
The bench noted, "Undoubtedly, the trauma of sudden attack and murder of her relatives and of the rape was so horrifying that the delay of two days in the disclosure of the true facts by Bilkis cannot be said to be late. The disclosure was definitely proximate to the fact of occurrence. In any event, the sequence of events was such that Bilkis could not narrate the incident any time before March 6 fearlessly.
Defence's counsel, Harshad Ponda, argued that when Ravi found Bilkis in a distraught state at the relief camp, she directed her staff, one Govindbhai Patel, to record her statement. However, as Patel was not a police official and merely an executive magistrate, he neither had the legal competence to probe the incident, nor record evidence. He also argued that as the statement was recorded three days after the incident, its veracity was questionable — Bilkis was sent for a medical examination only after she reached the Godhra relief camp on March 6 and confided in Ravi and a government hospital doctor there. The court cited previous SC judgments on section 157 of the CrPC to establish the redundancy of the defence's 'lapse of time' argument, saying that March 6, 2002 was essentially the first time Bilkis found herself to be in a position to give a statement fearlessly.
Close