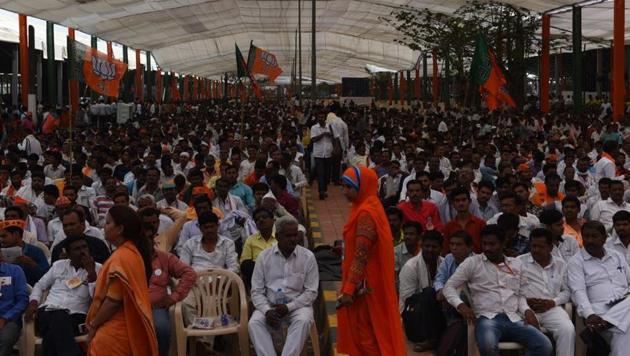 BJP Foundation Day highlights: Amit Shah speaks at Mumbai rally, mocks Rahul Gandhi
Hindustan Times | By HT Correspondents
, Mumbai
UPDATED ON APR 06, 2018 03:33 PM IST
The Bharatiya Janata Party (BJP) is gearing up for a mega show of strength on its 38th foundation day on Friday at Mumbai's Bandra-Kurla Complex (BKC). While the party holds foundation day celebrations every year, this show, a year ahead of the polls, is aimed at showcasing its growth in the past four years and energising its cadre. The rally at MMRDA grounds will be addressed by party president Amit Shah, who arrived in the city on Thursday. Union minister of transport Nitin Gadkari and Chief Minister Devendra Fadnavis are also expected to address the crowd.
Party leaders said an estimated three lakh workers from across Maharashtra will attend the rally. The BJP has organised 28 special trains, 50,000 buses and jeeps to get workers into the city — with workers arriving in hoards, the Western Express highway and BKC are experiencing traffic snarls.
Here are highlights from the BJP's foundation day rally:
2.37pm: "We lost two seats in the by-polls, but Rahul baba should focus on the fact that Modiji has taken away 11 of his party's governments," says Shah.
2.35pm: Shah tells BJP workers that on April 14, BR Ambedkar's birthday, BJP's message and symbol will be taken to 20,000 villages.
2.31pm: Shah calls out Congress president Rahul Gandhi and his "failed attempts to point fingers at Modi". "Rahul baba, the world's view toward India has changed because of PM Modi," he says.
2.30pm: Amit Shah, national President, addresses workers.
2.23pm: Fadnavis also promises that reservation for SC/ST will not go away, as the party is fighting for it.
2.23pm: Chief minister Devendra Fadnavis takes a dig at Congress and NCP's alliance, says BJP cannot be defamed by any allegations. He also referred to Late Shiv Sena leader Bal Thackeray as an 'idol'.
1.32: Ashish Shelar, BJP Mumbai chief, says today's rally has seen the biggest gathering of supporters, even bigger than protests at Azad Maidan and rallies at Shivaji Park, indirectly referring to Congress and Shiv Sena's display of strength.
1.05pm: BJP national president Amit Shah and Union minister Nitin Gadkari arrive at the venue.
1.03pm: Central Railway says all trains booked for the BJP rally have reached the city.
12.45pm: Finance minister Sudhir Mungantiwar addresses the crowd, refers to the Congress and the NCP as the Kaurav Sena coming together under leadership from Baramati. "Earlier, it was Nathuram Godse from Baramati who killed the father of the nation, Mahatma Gandhi. And now, a conspiracy is being hatched against the prime minister from Baramati."
12.30pm: Union ministers Prakash Jawdekar, Piyush Goyal, Hansraj Ahir, Suresh Prabhu and Subhash Bhamre present at the rally.
12.23pm: Addressing lakhs of BJP workers, Patil said: "This is the first time we are celebrating at this scale. Till next year, we will work day and night, without sleep. And the party will soon form governments in the Northeast states too."
12.17pm: Patil batted for the Shiv Sena by criticising Nationalist Congress Party (NCP) leader Ajit Pawar who has been targeting the Sena. He referred to the NCP and the Congress as termites that ate into the state's finances.
12.15pm: The rally starts with revenue minister Chandrakant Patil's address. Patil gives credit to a host of BJP stalwarts for the party's expansion and growth, mentioning the role played by Khadse as well.
12.05pm: Sudaam Gandhare from Aurangabad says he is enjoying the celebrations. "This is the first time such arrangements have been made for us. I did not spend anything on travel as special trains were arranged," he says.
11.55am: Party activists from Beed district are agitated as they have not been able to spot any posters of BJP leader late Gopinath Munde. "The arrangements are all fine, but we want Munde's posters also to be displayed," they demand, shouting slogans and waving pamphlets with Munde and Pankaja Munde's photos, which prompted Beed MP Pritam Munde to go up to them and request them to settle down.
11.52am: CM Fadnavis, state president Raosaheb Danve and state public works and revenue minister Chandrakant Patil arrive at the venue.
11.50am: Traffic jam reported outside Bandra Terminus.
11.42am: Folk music and dance performances begin at MMRDA ground for BJP workers, who have arrived from different parts of Maharashtra.
11.40am: Nine of 11 trains have reached Bandra Terminus on the Western Railway. The remaining trains are expected to arrive by 2pm. Railway officials said each train has the capacity to carry 1,500 to 2,000 people.
11.37am: Another resident of Ballarpur, Sudhakar Pardhi says: "Around 3,000 people from my city are here. Though it is very hot and we have been here for hours now, we don't feel exhausted because we are excited to be here."
11.33am: Salla Nanded, 65, who has been a BJP worker for the last 40 years, has come to Mumbai from Ballarpur in one of the special trains arranged by the party. "I am not at all tired. I am very happy to be here," she says.
11.30am: Bus operators said about 2,000 buses will come from across Maharashtra; of these, 800 will be from the Mumbai Metropolitan Region.
11.25am: Raghunath Hedau from Vidarbha's Yavatmal district travelled almost 700km to attend the BJP foundation day celebrations. "I was also there at the 2014 rally, before the elections. The arrangements are better this time," he said.
11.24am: Traffic slows down from Kurla station to BKC.
11.22am: Traffic moving slow from Kalanagar junction towards BKC, says traffic control room. Traffic crawling from Andheri on WEH towards airport.
11.15am: Former revenue minister Eknath Khadse, who has been sulking with the BJP leadership, is present on the party dais.
11.05am: Lakhs of BJP workers from across Maharashtra have arrived to celebrate the party's foundation day. Many said they are impressed with the arrangements made, such as snacks, water bottles, newspapers and proper seating, all in place since 5am.
10.50am: The MMRDA ground, where the rally is being held, has a rough sitting capacity of 2.5 lakh. The ground has nearly filled up, and more vehicles and buses are en route.
10.45am: The police have deployed a large number personnel and made security arrangements in the business hub, where the rally is being held.
10.35am: Traffic starts getting blocked on the Western Express Highway.
Close