Watch: Car plunges into swollen river, Navi Mumbai villagers rescue 4 of family
Updated on Jul 17, 2018 11:59 AM IST
The car fell into Ghot river after Asraf Ali Shaikh lost control while trying to steer it to the left and give way to another vehicle that was passing on the bridge.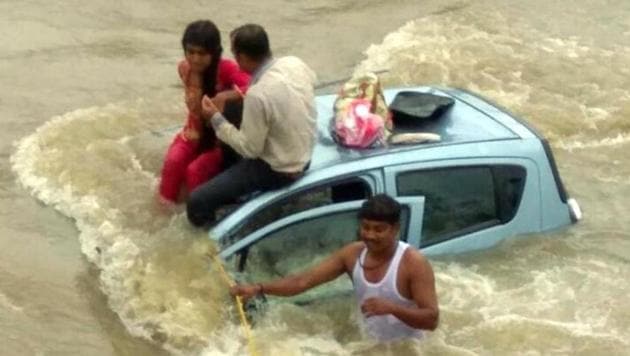 Had it not been for some villagers and construction workers, four members of a family, including a young child, would have lost their lives after their car fell into a swollen river in Navi Mumbai's Taloja, 40km east of Mumbai, on Monday.
The passengers suffered minor injuries.
Villagers and workers from a nearby construction site rescued the passengers within 30 minutes by breaking the car windows. The car was also winched out of Ghot river, which is overflowing owing to heavy rains, but it took them over three hours to get it out.
The police said Asraf Ali Shaikh, 37, a resident of Wavanje village in Taloja, was driving the car. He had gone out with his family for some work in the morning and was returning around noon. His wife Hamida, 33, daughter Suhana, 7, and niece Namira, 17, were travelling with him.
"As they were crossing a 12-feet-wide bridge to reach the other side of the river, another vehicle was coming from the opposite direction," said Rajendra Avhad, police inspector from Taloja traffic unit. "To let the other vehicle pass, Shaikh steered his car towards the left and lost control of the car. It fell into the river. It was raining."
Powerful currents swept the car around 20 metres from the bridge, where it fortunately got stuck. "The car did not fall from the middle of the bridge, but from one end, where the current was not as strong, so a major tragedy was averted," said another official from the traffic department. Another traffic official said the river is 20 metres deep.
Workers at the construction site near the spot saw the car plunge into the river and rushed to the spot. Along with some villagers, they got into the water and rescued the family. Ajay Kumar Landge, senior inspector of Taloja police station, said: "The people tied a rope to the car and pulled it towards the bank. They recovered it around 3.30pm. The rescued people suffered minor injuries and were sent for medical treatment. They are doing well now."
Close Story
Personalise your news feed. Follow trending topics