Drought: More areas across 7,500 Maharashtra villages added to list
The Maharashtra government on Thursday added 250 revenue circles across 7,500 villages to its list of areas hit by drought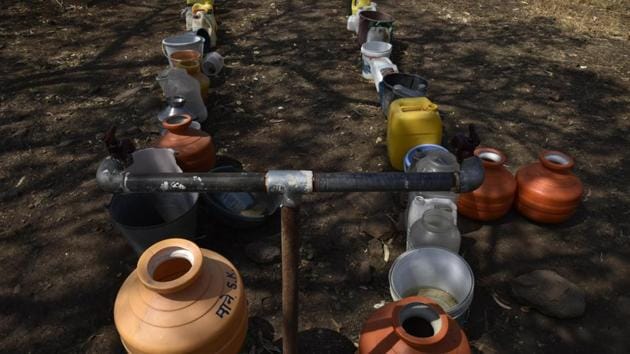 Published on Nov 02, 2018 01:22 AM IST
The Maharashtra government on Thursday added 250 revenue circles across 7,500 villages to its list of areas hit by drought. The decision, taken in a state cabinet meeting, comes a day after the government declared drought in 151 of the state's 358 tehsils.
Every tehsil has four revenue circles, and each revenue circle comprises 20-40 villages. The decision to include these 250 revenue circles in the drought-hit list was made after ministers objected to declaring drought only in 151 tehsils. They pointed out that many revenue circles were badly hit by drought too. However, as the state has considered tehsils as the unit for measuring damages, some revenue circles were not eligible for financial help as they were in tehsils that did not qualify as drought-hit, according to central government rules. For a tehsil to be considered drought -hit, its average annual rainfall should be less than 75% in the year.
"Each tehsil comprises four revenue circles and the decision to declare drought was taken considering the average data of rainfall and crop damage, among other factors, of the tehsil as a whole," said a senior minister, requesting anonymity. "However, the fact cannot be denied that some revenue circles in such tehsils may be reeling under drought, but have not been considered for financial assistance.
Chief minister Devendra Fadnavis said the government was ready to cover more tehsils and revenue circles. "We will constitute a committee that will look into it and take the decision," Fadnavis said.
"Following the disaster management manual, we have declared drought in 151 tehsils. Apart from them, the state cabinet has also decided to declare 250 revenue circles that have received less than 75% of the average rainfall this year," Fadnavis said.
It will cost the state around ₹7,000 crore to compensate farmers for crop damage. The farmers who grew crops on non-irrigated land will get a compensation of ₹6,800 hectare up to two hectares. In case of irrigated land, they are entitled to get compensation of ₹13,500 a hectare, while for horticulture crops, farmers will get ₹18,000 a hectare as compensation up to two hectares, following National Disaster Relief Fund (NDRF) norms.
For this, the state will now seek financial assistance from the Centre, under the National Disaster Relief Funds norms. It will also have to shell out an estimated ₹2000 crore from its own kitty for the 250 revenue circles that were declared drought-hit on Thursday.
"We will ask Centre to provide monetary assistance to tackle drought situation under NDRF norms. We are estimating expenditure of around ₹7,000 crore to be given for those affected by crop loss. However, farmers from the revenue circles will be given financial assistance from our own kitty as they don't not fit in the NDRF norms which is mandatory to get monetary help from the Centre," said relief and rehabilitation minister Chandrakant Patil.
The 250 revenue circles are from 29 tehsils that were not considered as drought-hit following manual verification also called as ground truthing. The state government had earlier selected total 180 tehsils on the basis of a report of National Centre for Crop Forecasting (NCCF), a forecast agency that works under agriculture ministry, Patil said.
Close Story