Five killed in vehicle pile-up on Mumbai-Goa highway
Updated on Mar 09, 2018 12:55 AM IST
The road accident took place at Mangaon in the morning; caused traffic congestion on the busy highway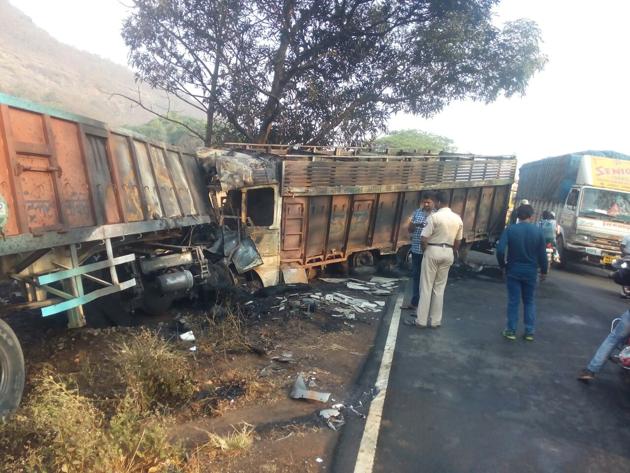 Five persons were killed in a vehicle pile-up on Mumbai-Goa highway near Mahad in Raigad district on Thursday morning -- four were charred to death when a truck and trailer rammed into each other and one person riding a two-wheeler was killed when he crashed into the trailer.
According to the police, a truck loaded with tiles was going towards Goa from the Mumbai side. As it was crossing Mauje Loner village around 5.40 am, it collided head on with an empty trailer that was coming from the opposite direction.
Both the vehicles caught fire just after the accident and two persons from each of them were charred to death.
Around the same time a speeding two-wheeler, which was passing that stretch, rammed into those vehicles and then it came under the rear side of the trailer. Tushar Gawde, who was driving the two-wheeler, suffered severe injuries on his head and other parts of his body. He was rushed to a nearby hospital, but was declared dead there. Gawde, 26, was a resident of Vadgaon, a nearby village.
"While the truck was registered in Haryana, the trailer was registered in Rajasthan. With the help of their clothes and the jewellery we identified the burnt deceased," said VS Jagtap, police inspector from Goregaon (Raigad) police station.
The driver and the cleaner of the truck have been identified as Jahid Khan, 25, and Shakil Khan, 19 respectively. Likewise, Surendra Rawat, 28, and Punam Singh Rawat, 19, have been identified as the driver and cleaner of the trailer. Their bodies were sent to a government hospital for conducting post-mortem.
"The accident took place at an isolated place. Some people who spotted the burning vehicles informed us about it and we immediately called in the fire-tenders. The bodies of the drivers and cleaners of both the vehicles were taken out after the fire was doused," Jagtap said.
The exact reason behind the accident is not clear as no one involved in the accident is alive. "We think one of drivers lost control and ended up hitting the vehicle coming from the opposite direction. The fire might have broken out because of an electric short-circuit or kerosene kept in heavy vehicles for preparing food," another official said.
There was traffic jam on Mumbai-Goa highway following this accident as the truck and the trailer blocked almost the entire road. There were around three kilometer-long traffic snarls on either side of the accident spot. The police later towed away the burnt vehicles and the situation was normal after 8.45 am.
The Mumbai-Goa highway is now being widened at different places of Raigad district. No such widening work, however, was being undertaken at the place where the accident took place.
Close Story
Personalise your news feed. Follow trending topics