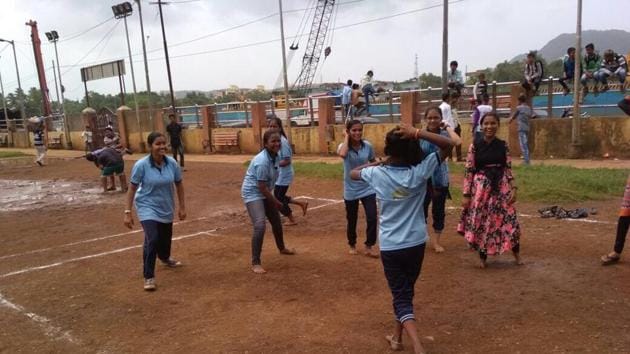 For these Mumbai girls, kabaddi is not just a sport but a gateway to empowerment
The girls live at Shivaji Nagar in Govandi, one of the largest slum settlement in central Mumbai
UPDATED ON JAN 09, 2018 02:57 PM IST
Sports may develop mental and physical fitness, but for 18-year-old Safiya Shaikh, playing kabaddi is what brought her back to school and boosted her confidence. Each one of the 84 girls, who are part of NGO Apnalaya's 'Khula Aasmaan' project, have fought gender bias, parental control and dress code to play kabaddi and work towards their dreams. The girls live at Shivaji Nagar in Govandi, one of the largest slum settlement in central Mumbai.
On January 21, the players, who earlier did not step out of their homes without a guardian, will play in a tournament at Ambedkar ground in Govandi. When Apnalaya started the programme three years ago, it was not easy to convince parents or the girls to participate in the project. "The girls are not used to leaving their homes without scarves or dupattas. It took us six to eight months just to convince them to shed these while playing," says Shaikh Noor Meher, 20, who is a mentor for 10 players in the programme.
Shaikh's student Safiya had dropped out of school after Class 10 owing to financial problems. "I was very good at studies, but we are a family of five sisters and two brothers. My parents thought it was better if my brothers continued their education," said Safiya, who with the help of her mentor convinced her parents to join college after a year's gap. Today, she partly funds her education by undertaking tailoring jobs.
"The programme helped her in understanding the importance of education, building self-confidence and delaying talks of marriage in the family," Shaikh said.
Many mentors say that delay in marriage talks has been the biggest achievement of this project. According to Apnalaya's study, 38% girls in Shivaji Nagar get married before the legal age of 18. With the programme, Apnalaya also trains the girls in life skills, gender parity, healthcare and fundamental rights that help the girls and their families realise the importance of education.
Arun Kumar, CEO, Apnalaya says, "To see them change from girls who would not make eye-contact to overcoming their inhibitions and playing like confident athletes is a great achievement."
Kumar said among the active participants of the programme, there have been no cases of early marriage and only four dropped out of school.
Close