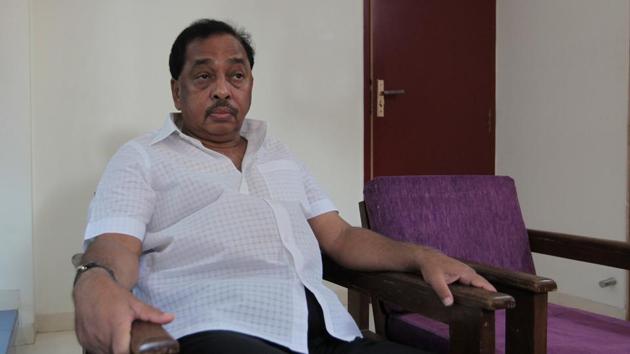 Former Maharashtra CM Narayan Rane sworn in as BJP MP, party pitted against BJP-Sena in Kankavali
The district has been the citadel of Narayan Rane and the assembly constituency of his younger son, Nitesh
PUBLISHED ON APR 04, 2018 12:52 AM IST
The Bharatiya Janata Party (BJP) has directed its district leadership to join hands with the Sena in the nagar panchayat elections in Kankavali to be held on April 6.
The direction came after Maharashtra Swabhimaan Paksh (MSP) chief Narayan Rane filed his nomination as the BJP candidate for the Rajya Sabha election two weeks ago.
The polls for the 17-seat nagar panchayat in Kankavali tehsil have become a prestigious fight for Sena-BJP combine and Rane's party, which has joined hands with the Nationalist Congress Party.
The Shiv Sena and the BJP combine is pitted against the Maharashtra Swabhimaan Paksh (MSP) in the election.
The BJP fielded its candidate for the post of the Nagar Panchayat president, while the Shiv Sena, which has a stronghold in the district, conceded to fight on fewer seats. This is to ensure that the MSP does not win due to division of votes.
The district has been the citadel of Narayan Rane and assembly constituency of his younger son Nitesh, who is a sitting Congress MLA, over the MSP's fight against the BJP.
"Rane has fielded his party's candidates in the Nagar Panchayat elections when he is a BJP MP. When he was being sworn in as member of the Rajya Sabha, his candidates were campaigning against the BJP in Kankavali. Nitesh Rane, who is a Congress legislator, is spearheading the campaign for MSP candidate," said a state-level BJP leader on condition of anonymity.
Rane, after being sworn in as a member of the Rajya Sabha on Tuesday, said he would not merge his party with the BJP as the Shiv Sena is part of the state government.
BJP's Sindhudurg district chief Pramod Jathar said, "The BJP and Shiv Sena joined hands to oppose Narayan Rane's mindset of the selfish politics. We joined hands after the CM's approval. The election process has established that the Ranes are not loyal to any party but are interested in safeguarding their own interest."
Nitesh Rane, however, has said it is a friendly fight between the BJP and the MSP and that they would come together in general elections. "It would not be proper to say that the BJP and the Sena are fighting together as rift between two parties is at its peak. The local leaders of both the parties have come together with an aim to defeat us," he said.
Shiv Sena's state leadership is not happy with the district leadership's decision of conceding the secondary role.
"It is true that despite having a stronghold in the district, we are fighting on fewer seats. But we have come together to ensure that MSP is defeated," said Sena MLA Vaibhav Naik. Narayan.
Close