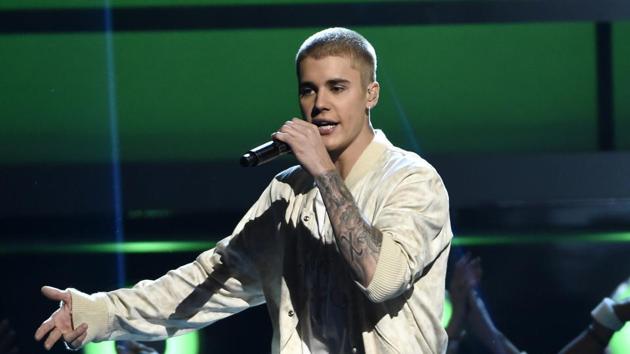 Justin Bieber concert: Fans travel from Canada to Mumbai, splurge on tickets, merchandise
Justin Bieber shot to fame with his hit single 'Baby', which released in 2010
Hindustan Times | By Ruchi Pujari
UPDATED ON MAY 08, 2017 08:30 AM IST
The much awaited Justin Bieber concert in India is just days away and fans cannot stop raving. Performing for the first time in India, the global pop sensation has a huge fan following here.
Vancouver resident Lubaina Jaffri, 19, plans to fly down to Mumbai just to attend the show. "Justin has been my idol since I was 12. I'm his biggest fan and I'm counting down the days till the concert, for which I specially bought a Justin Bieber t-shirt. I'm sure he won't be disappointed with the turnout," says the university student.
"This is a dream come true for all Indian beliebers (fans of the Canadian singer). For the past five to six years, we worked hard on getting hashtags to trend on Twitter so Justin would notice us. I couldn't believe my eyes when I read that he was coming to India," says Abirami Iyer, 24, an MBA student from Bangalore.
The tickets for the concert range from Rs5,000 to Rs15,000, which didn't faze Abirami at all.
"I was expecting the tickets to be more expensive. I bought one for Rs10,000 and think it's worth it," she adds. Abirami is set to travel all the way from Cochin to Mumbai to attend the concert.
With just four days left for the big event, Simran Jagdale, 19, cannot contain her happiness. "I have been waiting for this day since 2010, which is when I first started listening to Justin's music. I have loved him since then," she says.
Bieber shot to fame with his hit single 'Baby', which released in 2010. Fans say they love him for how he has emerged stronger through the years, despite the numerous controversies surrounding him.
"Justin has been my inspiration for ages. He has put his talent to the right use and shown us that anyone can be who they want to be. He has shown me that if you work hard, you can achieve your goal. People may love or hate him, but their opinion won't change mine. He is so confident each time he performs onstage and seems like he is having fun. I never thought I would get to meet him. This is my chance," says Moksha Karimbil, 14, who uploads covers of Bieber's songs on YouTube.
Recently, a list of items that Justin demanded for his India tour — such as a private jet, ping pong table and jacuzzi — went viral. "People are just hyping the issue, when such demands are actually quite feasible. As my father works in the hotel industry, I've seen how such demands are not uncommon," says Abirami.
Bieber is set to spend five days in India, of which three will be spent in Mumbai. His tour itinerary includes visiting Delhi, Jaipur and the famous monument of love — the Taj Mahal.
Close