Maharashtra CM holds talks with eminent personalities from Maratha community, tries to foster peace
The government discussed short- and long-term steps to be taken for the welfare of the community, and reiterated their resolve to give reservation to Marathas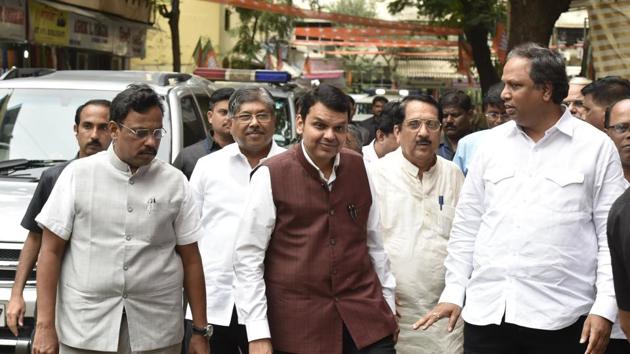 Published on Aug 03, 2018 12:33 AM IST
In damage control mode in the wake of Maratha protests across the state, chief minister Devendra Fadnavis on Thursday invited eminent personalities from the community to seek their opinion on the reservation demand. After the meeting, the invitees and state issued a joint statement, urging the community to maintain peace and refrain from extreme steps such as suicide.
The agitating Maratha outfits have refused to hold talks with the government on the pending demands alleging that the government was not serious.
Those who attended the meeting included scholar AH Salunkkhe, historian Pandurang Balakawade, legal experts Harshad Nimbalkar and Shailesh Mhaske, actors Sayaji Shinde and Amol Kolhe, art director Nitin Desai and industrialists Bhairavnath Thombare, Satish Parab.
The government discussed short- and long-term steps to be taken for the welfare of the community, and reiterated their resolve to give reservation to Marathas. The state apprised the invitees of their various welfare schemes in the field of education, industries and social justice. The personalities suggested making the schemes more user-friendly.
According to a minister, this was the CM's attempt to engage the Marathas or at least show that the community members are interacting with the government on the issue. "The state is positive and committed to reservation that will stand legal scrutiny. We have been tapping all possibilities to ensure time-bound reservation. As already declared, we will convene a special session to discuss the reservation. The community members were apprised about the steps taken and status of the process being followed for the legal battle of reservation," CM Fadnavis said after the meeting.
A scholar said the government should look at employment opportunities for youngsters from the state. They said despite being agriculture-intensive state, the farmers are in distress owing to poor rates for their crops. Another participant said: "The community is upset over unfulfilled promises and it triggers confrontation. The government should walk the talk."
Actor Sayaji Shinde later said, "The discussion was fruitful, amid positive atmosphere. We expect the tension to subside very soon."
Close Story