Marathas threaten to restart protests if Maha govt fails to fulfil pending demands in 15 days
A delegation met cabinet sub-committee, headed by revenue minister Chandrakant Patil, on Thursday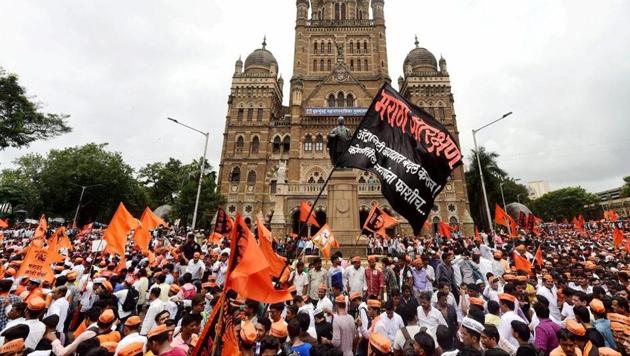 Updated on May 04, 2018 04:58 PM IST
Miffed with the poor response to their pending demands, organisations that represent the Maratha community warned the state government on Thursday that they would relaunch protests if these demands are not met in the next 15 days.
The outfits have alleged that despite assurance from the state last August, most of their 15 demands have either not been fulfilled, or have been complied with "half-heartedly".
A delegation of representatives of Maratha outfits met the cabinet sub-committee, headed by revenue minister Chandrakant Patil, on Thursday. "We expressed our discontent during our meeting with Patil over the government's response," said Virendra Pawar, one of the convenors of the silent marches that the community organised across various districts in Maharashtra in 2016 and 2017.
While the government has extended freeships for 605 vocational courses to students from economically backward classes, it has not included major courses such as MBBS and BDS in the current academic year, the delegation said.Their other issues are that the state announced that it would extend financial aid up to Rs 10 lakh from Annasaheb Patil Financially Backward Development Corporation, but applications have not yet been processed; not a single hostel has been built for Maratha students; the government has failed to stop the misuse of the SC/ST Atrocities Act; and that Shivaji Memorial project in the Arabian Sea is moving at snail's pace.
If the government fails to act in the specified time period, the committee will decide on its future course of action, Pawar said. "The community is very upset over poor response from the government. If it does not meet our demands, the future protests are unlikely to be silent like earlier," he said.
The delegation also demanded that the process of giving reservation to Marathas under the Other Backward Classes (OBCS) be expedited. Currently, surveys are being conducted in most districts by the Maharashtra State Backward Class Commission, to determine the community's backwardness in a socio-economic context. The commission is expected to submit its report to the government in the next few months. "We have demanded that the entire process be speeded up, as the government has very time before its five-year term ends next year. Next year, it will lose six months to two code of conducts, if the Lok Sabha and Assembly polls are held separately," said a representative who was part of the delegation, requesting anonymity.
Patil has assured the delegation that the state will fulfil most of the demands over the next 15 days, delegation members said.The government has already taken fruitful steps over the past 10 months, after the community held its culminating march in Mumbai on August 9, 2017, he said.
Close Story