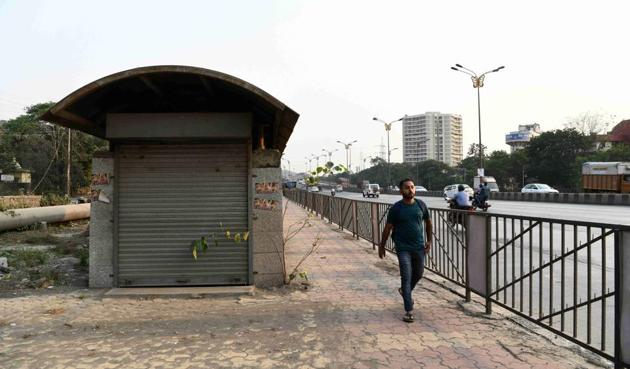 On Sion-Panvel Highway: 8 underpasses lie unused for 4 years, pedestrians' life at stake
40 people died in 180 accidents on the stretch between Kalamboli and Vashi Bridge in 2017
PUBLISHED ON FEB 28, 2018 10:42 PM IST
Eight underpasses developed for pedestrians on the busy Sion-Panvel highway have been lying unused for nearly four years as they are either filled with rainwater or debris.
In view of the frequent accidents and increasing traffic snarls on the road, the city traffic department has asked the state public works department (PWD) to open the underpasses as soon as possible.
Ever since the underpasses were developed, they have been filled with either rainwater or debris. Pedestrians cannot use them to cross the busy highway and are forced to cross the road illegally, risking their lives. As many as 40 people died in 180 accidents on this road (between Kalamboli and Vashi Bridge) in 2017.
PWD officials said they are in a process of opening all the underpasses. Satish Shrawage, executive engineer of PWD said, "Apart from the traffic department, many other organisations have written to us to open those underpasses. The tendering process for the same has already started and the underpasses will be in usable condition soon. However, we cannot say exactly how much it will take."
The underpasses are located at Vashi, Sanpada, Kharghar, near LP bridge in Nerul, near Uran Phata Bridge, near SBI colony in Belapur and near Taloja Road.
"The residents face a lot of problems as there are no other options to reach the other side of the road. Therefore, we have asked the PWD to remove the water and debris from the underpasses and make them usable for pedestrians," said a senior officer from the traffic department.
The Sion-Panvel highway has been in a bad shape for three years since it was widened by Sion Panvel Tollways Pvt. Ltd. (SPTPL). However, after light vehicles were exempted from paying toll on the highway, the SPTPL stopped taking responsibility of the maintenance, claiming it was not being paid by PWD to do so.
The PWD repaired the road after Navi Mumbai police commissioner Hemant Nagrale and joint police commissioner Prashant Burder requested them to take measures for reducing the accidents. In September 2017, the state PWD minister Pravin Pote-Patil also asked the department to repair the road. However, the condition of the underpasses remained the same.
"Pedestrians have to wait for nearly five minutes to cross the road near LP Bridge in Nerul. Vehicles coming from Mumbai, Panvel, Maharashtra Industrial Development Corporation (MIDC) and Nerul meet at this junction. Therefore, crossing the road at peak hours has become virtually impossible," said Meena Hegde, 34, a resident of Nerul.
"Buses going towards Panvel, Kalamboli, Kamothe, Ulwe and Uran stop at this junction. People haphazardly cross the highway to board these highways. The authorities should open the underpasses as early as possible," said Vitthal More, 45, a Kharghar resident.
This highway is crucial as all vehicles that go towards Pune, Goa and the southern cities of Maharashtra via the Mumbai-Pune Expressway have to take this road.
Close