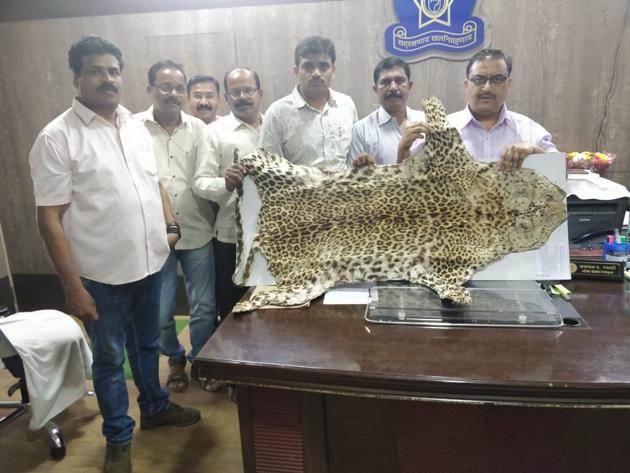 Two Pune residents caught in Thane for trying to sell leopard skin for
₹

8 lakh

It was allegedly gifted to the father of one of the accused; they decided to sell it after he passed away recently.

UPDATED ON MAY 24, 2018 04:48 PM IST
Two residents of Pune have been arrested from Thane for trying to sell leopard skin for Rs 8 lakh, the police said.
On Wednesday, Thane crime branch's unit 5 arrested the duo after receiving a tip-off that they would be reaching Thane's Shrinagar industrial area to sell leopard skin to an industrialist.
The accused have been identified as Mohandas Sakate,29, a labourer, and Shivdas Pote,39.
Police sources said that Pote's father was a sage and used to meditate and pray sitting on the leopard skin. After his father died last month, Pote decided to sell the skin.
"We laid a trap and caught both of them and found them carrying one leopard skin. They confessed that they were planning to sell it for Rs 8 lakh," said J Ranaware, senior police inspector, Thane crime branch's unit 5. "The skin was gifted to Pote's father by someone years ago, but we are verifying details to determine if that's correct. Also, we are investigating if anyone else is involved in selling leopard skins."
The leopard is a protected animal and comes under schedule I category of the Indian Wildlife Protection Act. Possessing its skin is banned, and invites maximum punishment of up to three years.
Close