UN: India, China are hot spots for illegal sand mining
May 08, 2019 12:47 AM IST
UN: India, China are hot spots for illegal sand mining
India and China top a list of countries where illegal sand mining has become a major environmental problem, according to a report released by the United Nations Environment Programme (UNEP) on Tuesday.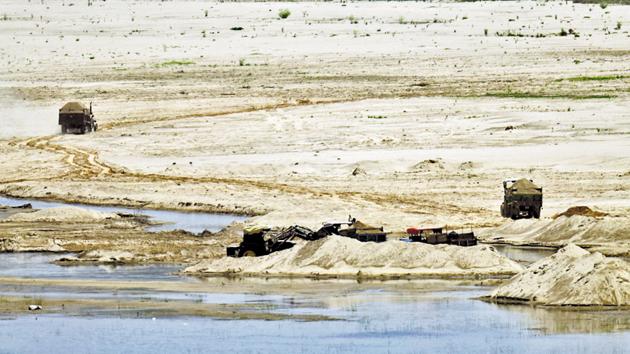 While we cannot do without sand, responsible mining should be incentivised, said the report, 'Sand and Sustainability: finding new solutions for environmental governance of global sand resources'.
Stay tuned with breaking news on HT Channel on Facebook.
Join Now
Unsustainable sand mining was being fed by growth of construction work in China, followed by India, the report said.
In 2017, China recorded the highest use of cement (which includes sand aggregates) in the world, at an estimated 2.4 billion tonnes. India came second, with 270 million tonnes, followed by the USA (86.3 million tonnes), the report said.
Global demand for sand and gravel is about 50 billion tonnes a day, according to the report.
To put the amount in perspective, that's an average of 18 kg per person per day. Other countries where illegal coastal sand extraction is a problem include Morocco, Thailand, Cambodia, and Vietnam.
Unchecked mining of sand from coasts and riverbeds adversely affects not only marine life, but can also lead to drought and flooding, and a drop in the quality of water.
"The scale of the challenge inherent in sand and gravel extraction makes it one of the major sustainability challenges of the 21st century. The extraction of sand from the seabed has led to pollution, flooding, lowering of water aquifers, beach erosion and more frequent droughts. Meanwhile, rivers, river deltas and coastlines are eroding, sand mafias are thriving and demand continues to grow," the report said.
"The solution to reduce illegal sand mining would be for all large infrastructure planned projects (roads, buildings, bridges) to identify the source of the sand and to ensure traceability," said Pascal Peduzzi, director of GRID-Geneva at UN Environment, who released the report. "If only sand from the identified source is being used, this would highly reduce the possibility for illegal sand mining. Local governments have a strong role to play, given that they are the main clients of sand and gravel for construction of these infrastructure projects," he said.
The report, however, also highlighted how India and China were taking steps to check illegal sand mining. "Given the scale of development in India and China, they are definitely hotspots for this activity, but these countries are also becoming leaders in tackling sand mining and sustainability challenges," said Louise Gallagher, the principal investigator of the report, University of Geneva, and UNEP's Global Resource Information Database (GRID)-Geneva. "We cannot do without sand, but it is imperative that we incentivise responsible extraction to reduce the fairly staggering social and environmental impacts," Gallagher said.
The research found India and China were taking active steps to create suitable substitutes for sand in construction and industrial uses. "The next step is sourcing responsibly mined sand through a traceability process, followed up with strong accountability through governance. Then, illegal and irresponsible sand mining will be drastically reduced," Gallagher said.
According to a 2018 documentary by the Australian Broadcasting Corporation, illegal sand mining fetches $250 million or ₹1,611 crore in profits in India every year. The UNEP report is an important step in making the issue of unsustainable sand mining recognised as an international crisis, said Awaaz Foundation, a Mumbai-based environment advocacy group that contributed to the UN report by identifying cases of illegal sand mining along beaches and creeks on India's west coast.
"Sand mining has been named the second largest extractive industry after water, and its impact on marine and terrestrial ecosystems is immense. We hope the report will trigger changes in international and national implementable policies, based on ground vigilance," said Sumaira Abdulali, the convener of Awaaz Foundation.
Abdulali filed one of the first petitions against illegal sand mining in the Bombay high court (HC), and was even attacked by the sand mafia when she tried to stop illegal sand extraction in the Konkan region's Kihim beach, in 2004. "The issue of sand mining spread from Kihim beach, Maharashtra, where I first intercepted a sand truck. It has now become a crisis recognised at the state, national and international levels," she said.
India has rules to check sand mining. The Union Environment ministry said illegal sand mining was being addressed at the district level, under the Sustainable Sand Mining Management Guidelines, 2016. "Beach and creek sand mining is illegal. States are in the process of submitting district survey reports identifying areas to be protected from creek and river bed mining too. Once these reports are compiled, state-wise notifications will be issued prohibiting sand mining," said a senior official from the Ministry of Environment, Forests and Climate Change (MoEFCC).