Survival at stake: Beef ban holds lakhs of livelihoods to ransom in Maharashtra
Hindustan Times |
, Mumbai
Apoorva Dutt
Mar 22, 2015 10:33 AM IST
Butchers and abattoir workers are not the only ones left unemployed by the ban. Across Mumbai and Maharashtra, thousands of transporters, traders and middlemen are jobless too. Most were standalone businessmen or daily wage earners who will get no pension or severance pay.
Naeem Qureshi, a 56-year-old butcher, was born on Bazaar Road in Bandra (West) and has spent all his life there. "My father owned this beef shop before me," he says. "I've been working in this spot for 44 years."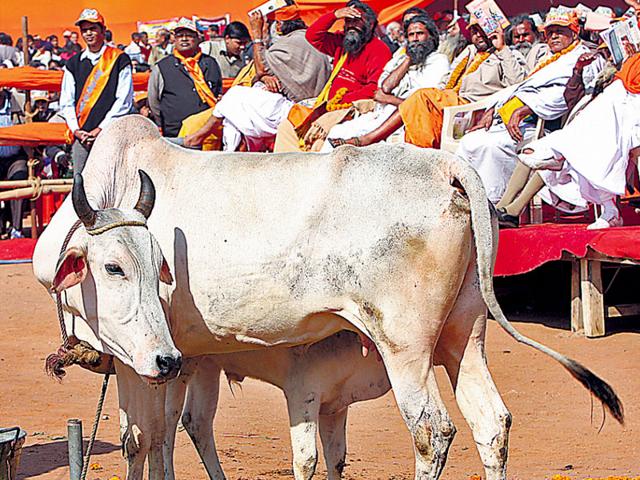 His way of life came to an abrupt end on March 5, when the Maharashtra government passed a ban on almost all forms of beef.
Qureshi and the 74 other beef butchers working out of Town Market received a notice from the state that said their jobs were now illegal. They can still sell buffalo meat, also called carabeef, but that made up only 20% of their supply, which is not enough to keep their businesses going.
"We still come to our shops every day, hoping for good news or maybe another job," says Naeem.
Naeem is one of 900 shop owners in Mumbai who were licensed to sell beef.
"On average, every shop has two helpers as well," says Intezaar Qureshi, vice-president of the Bombay Suburban Beef Dealers Welfare Association. "That's about 3,000 jobs gone."
Across the board, the buffaloes that now comprise the only legal form of beef made up about 20% of the business. "I don't know how many businesses will stay open on just carabeef," says Mohammed Ali Qureshi, president of the association. "The supplies of it alone are not enough to sustain the city's businesses, let alone the state's. About 80% of what we dealt in was bull meat, sourced mainly from farmers with old cattle."
The number of people that stand to lose their livelihood extends much further than the shops, Mohammed adds.
"There is a long chain of jobs, right from the man who buys old cattle from farmers and delivers it to the abattoir, to the man who delivers beef to the local dhabas," says Mohammed. "There are also those who work in the abattoir, both slaughtering and taking care of the animals in the sheds. Then there are the brokers who supply the meat to the butchers. All these jobs are now either gone or in peril."
According to Mohammed, the total number of jobs at stake across the state is about 2.5 lakh.
In Mumbai, the biggest casualty will be the Deonar slaughterhouse.
This 64-acre facility — the only legal slaughterhouse in the city — employs a total of 10,000 people full-time and supplies Mumbai with its daily requirements of mutton, lamb, chicken and, until recently, beef. "The ban on the slaughter of bulls has led to 950 employees losing their jobs," says Pathan KA, deputy general manager of the Deonar abbatoir. "These include butchers, transporters and people who tend to the animals in their sheds while they are still alive. We can't just transfer them to other jobs; there is no work for them to do."
There is no severance pay or compensation for these workers. "It's not as organised as that," Pathan says. "A lot of the workers were paid on a daily basis."
Others who have been impacted are the middlemen or 'brokers', as Pathan calls them, who transported cattle from farmers, and transported beef across Mumbai.
Among the former is Asif Qureshi, 26, of Baramati, Pune. "I started transporting old cattle to Deonar when I was 16 and my father sold our old cattle," he says. "Now I have no work."
Getting a new job isn't easy, adds Naeem, sitting in front of his empty shop. "This is our family business. I haven't finished school, and I never bothered to go to college, because this trade was going to be my life. How will an illiterate 56-year-old now support himself in the city?"
For Qureshi, the ban is a communal concern in a very real sense of that term. Trading in beef is what his community has always done for a living.
Other butcher shops in the city — chicken, lamb, goat and pork — are full, he says. "They don't want us to encroach into their territory. And they don't want a Qureshi working in a non-beef shop."
"Exciting news! Hindustan Times is now on WhatsApp Channels
Subscribe today by clicking the link and stay updated with the latest news!"
Click here!