Ghaziabad: Wives of murder accused, victim to take on each other in Khoda municipal polls
Former MLA Amarpal Sharma booked under Gangster Act for murder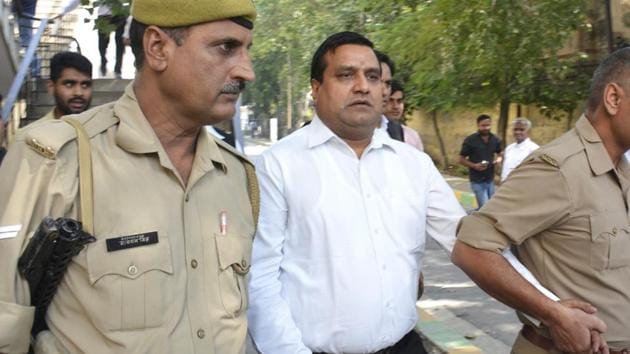 Published on Nov 03, 2017 03:47 PM IST
A tough contest is on the cards for the seat of Khoda Municipal council chairperson as two women candidates appear to be the top contenders for the post. They are the wife of Bharatiya Janata Party (BJP) leader Gajendra Bhati who was gunned down on September 2, and the wife of former MLA Amarpal Sharma who is in jail in connection with the conspiracy for Bhati's murder.
Making the contest even more interesting, Ghaziabad police and administration have decided to impose the provisions of the Gangster Act against Sharma.
"This move will further delay bail for our client. We have applied for bail at the sessions court in Ghaziabad which is set to be heard in a few days," said Kuldeep Singh, Sharma's lawyer.
Rajesh Kumar Yadav, additional district magistrate (finance & revenue), confirmed that Sharma has been charged with the Gangster Act.
Khoda was earlier a "gram panchayat" and the post was held for a few months by Sharma's wife Mohini. Her term expired on March 10, 2016, a post she had held since December 2015. After this, Khoda was declared a "Nagar Palika" (municipal council) and this is the first time that the local body will go to polls to select chairperson and councillors.
The seat of the chairperson of Khoda nagar palika is reserved for a woman this time.
Bhati's wife Reena Devi is expected to contest against Mohini Sharma for the seat. "We will be contesting elections and have purchased the nomination form. We will be banking on support from the residents over local issues. We expect that they will support us," said Yogesh Bhati, Gajendra Bhati's brother.
On the other side, family members of Amarpal Sharma claim that the former MLA had no involvement in Bhati's murder.
"He has been implicated in the case due to political rivalry and because my aunt was going to contest election for the seat of chairperson. Now, the officials have levied the Gangster Act. This has been done just ahead of elections so that there is a delay in him getting bail and as a result my uncle stays in jail longer," said Rahul Sharma, Amarpal's nephew.
"However, we will be contesting as independent whether or not any party gives us a ticket. The fight will be tough," he added.
Sharma is a former MLA from Sahibabad and won the seat on a ticket from the Bahujan Samaj Party (BSP). Just ahead of the UP assembly polls earlier this year, the BSP leadership expelled him and he had joined Congress. He unsuccessfully contested for the Sahibabad seat on a Congress ticket.
He is reported to have a strong voter base in Khoda, where more than 1.55 lakh voters will cast their votes for the posts of councillor and will also be electing a woman chairperson.
Gajendra Bhati was gunned down on September 2 in Khoda by two armed motorcycle-borne men. Ghaziabad Police later arrested Narendra Gurjar alias Fauji, while the Special Cell of Delhi Police arrested Raju Kumar alias Pehalwan.
The two are allegedly the bikers who gunned down Bhati, police said.
According to the statement made to police, Fauji had alleged that the murder conspiracy had been hatched on the orders of Sharma, who had wanted to get rid of Bhati ahead of the local body election.
Close Story