Went from carnage in 1947 to greatest day in 1948, says Olympic hero Balbir Singh
By 1947, India were already a hockey powerhouse having been Olympic champions thrice in 1928, 1932 and 1936 when the team comprised mostly Army men and Anglo-Indians, playing as a British colony. No Games were held in 1940 and 1944 because of World War II.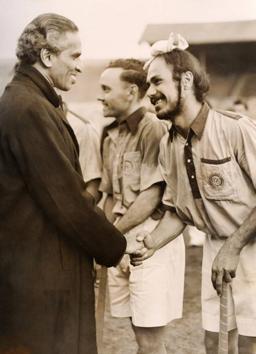 Updated on Aug 12, 2018 05:51 PM IST
BBC described Indian hockey team's 1948 London Olympics gold as one of the most politically significant episodes in the history of the Games.
A British colony till a year ago, India defeated Britain on their home turf and saw the tricolour of the newly independent nation being hoisted, in a country which ruled them for two centuries.
By 1947, India were already a hockey powerhouse having been Olympic champions thrice in 1928, 1932 and 1936 when the team comprised mostly Army men and Anglo-Indians, playing as a British colony. No Games were held in 1940 and 1944 because of World War II.
Leaving behind heartburn memories of partition that saw the massive migration of human population, dividing the subcontinent into two nations (India and Pakistan) on religious lines and inviting large scale violence which killed millions, the Indian hockey team gave a young nation something to feel proud of.
The day was August 12, 1948.
"Though it happened 70 years ago, memories of the London Games are as fresh as it happened yesterday," recalls the 95-year-old Balbir Singh Senior with moist eyes. "As a child I used to ask my father (Dalip Singh Dosanjh), who was a freedom fighter, what independence means and what we would get out of it. He'd reply that independence would give us our own identity, flag and pride forever. That day when our flag was hoisted in front of thousands of Britons at the Wembley Stadium, I realised what independence means. It was the proudest moment for me and for all Indians back home. When the national anthem was played and the flag was going up, I felt that I was flying. I am short of words to describe that glorious moment."
ALSO READ: 70 years ago today, India won first Olympic gold after independence
Partition
The story of independent India's maiden Olympic gold started from the tragedy of partition. By then, Lahore was one of the hubs of hockey and leagues of Lahore colleges were considered a step to the national squad. India lost Lahore and many great players to Pakistan due to partition.
Indian hockey started in Kolkata which took the lead in early 19th century and Anglo-Indians had their contribution in laying a strong foundation. Before independence the team mainly comprised players from army, railways, telegraph and customs or port services. Gradually the sport spread to princely states and other cities of Bhopal, Gwalior, Jhansi, Indore, Allahabad, Aligarh and Lucknow. But by mid-1940s Punjab had become the powerhouse. Jobs in Punjab Police and strong inter-college circuit of Panjab University saw the focus of Indian hockey shifting to the province.
Punjab won the nationals in 1946. In March 1947, for the last time a unified Punjab participated in the nationals and expectedly defended their title, beating hosts Bombay in the final. The team was led by 1936 Olympic gold medallist AIS Dara, who played in London 1948 but for Pakistan. The winning trophy for nationals remained in Lahore. By the time the victorious Punjab team reached Lahore, communal violence had already begun.
"Siblings Shahzada Sharukh and Shahzada Khurram who were integral to the Punjab team, decided to stay back in Lahore, giving shelter to many teammates, including Keshav Dutt and Dharam Singh, and made sure they were escorted safely out of Lahore," said Balbir.
Both brothers went on to represent Pakistan in London.
ALSO READ: How Independent India won their first Olympic gold medal 70 years ago
"The wound of partition was so engraved in people's hearts on both sides that when both the teams came across each other during the 1948 opening ceremony, there was hardly any interaction between the players despite many of us playing for the state team just a year ago. There was no warmth. This was the impact partition left and it took time to get out of that. Though with time, things settled down and we toured Pakistan in early 1950s for a Test series," said Balbir, who went on complete a golden Olympic hat-trick (1948, 1952 and 1956).
"If the 1948 triumph was the greatest day of our lives, the 1947 carnage was the blot on our society. Being a Punjab Police inspector, I was in action then, trying to save people and stop violence," said Balbir. "I was posted in Sadar thana of Ludhiana and we got calls regarding fires, killings, abductions and loot almost every hour. People were at each other's throat. There was a mass exodus of population fleeing to Lahore or coming from the other side. Because of the massacre, I stayed away from hockey for months."
1948 Nationals – starting from scratch
The Punjab team felt the impact of partition the most. The last national champion of undivided India, Punjab were minus its captain AIS Dara, Anwar Beg Moghal, Mahmoodul Hasan Sheikh, Azizur Rehman Khan and brothers Shahrukh and Khurram.
"We faced a difficult task in fielding a new team. Punjab Police had good players but the riots and frequent calls to quell trouble kept us occupied. We had barely practiced ahead of independent India's first nationals and Punjab had to start from scratch," said Balbir.
The 1948 Nationals were held in Bombay and defending champions Punjab lost early. Initially in the 39 list of probable for London Olympics, no player from Punjab was considered.
"It was only after the intervention of Dickie Carr, who was part of the 1932 Olympic gold medal winning team, that I got a call after one week of the camp, eventually making it to the 20-member squad," said Balbir.
ALSO READ: Asian Games 2018: Sports Ministry clears 804-member contingent, will pay for 755
Mumbai won the nationals and had seven players in the London squad. "Had the Indian team been formed after the 1947 nationals, there would easily be 7-8 players from Punjab. But partition took with it some of our good players who represented Pakistan in the Olympics."
London Olympics
The camp for Olympics was held in Bombay and then most Indian team players boarded a flight for the first time. When they reached Heathrow, the police chief of unified Punjab, Sir John, was there to receive them. "At the start, I was a bit hesitant to meet him as he used to be the police chief and I was just an inspector. Moreover, he picked me for the job. But when I met him, he gave me an advice: 'In India, the grounds are fast and the ball travels to you but here the grounds are slow and you can't afford to wait for the ball, you have to reach it'."
"The advice turned out to be great help for us and we eventually beat the home team to become Olympic champions for the fourth time in a row," said Balbir, who scored the first two goals. Tarlochan Bawa and Pat Jansen were the other scorers.
"When we took the field in the final, the jam-packed stadium was rooting for their team, but as the match went on, impressed with our game, the crowd started cheering for us. That was the golden era of Indian hockey and I hope the day will come when we will again rule the world," concluded Balbir.
Close Story