WrestleMania 34: Brock Lesnar, AJ Styles retain titles; Ronda Rousey shines on debut
Brock Lesnar retained his Universal Championship against Roman Reigns while AJ Styles defeated Shinsuke Nakamura to remain the WWE Champion at WrestleMania 34.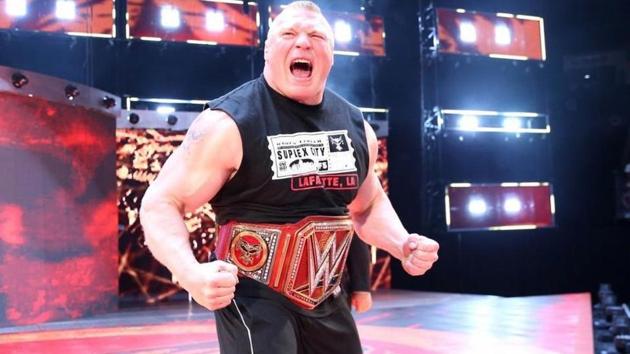 Updated on Apr 09, 2018 10:34 PM IST
It was a night of returns and surprises as the World Wrestling Entertainment (WWE) produced a solid show at WrestleMania 34 in New Orleans on Sunday. Brock Lesnar and AJ Styles both successfully retained their championships while The Undertaker and Daniel Bryan won their respective matches after returning from injury. It was also a night to remember for former UFC star Ronda Rousey who received a huge ovation from the crowd after winning her debut match in professional wrestling.
The Mercedes Benz Superdome was at its full capacity for the pay-per-view and the 78,133 fans in attendance made sure that there was never a quiet moment during the show. It was also a huge success for the company financially as according to WWE officials, WrestleMania 34 broke the record for the Superdome's highest grossing entertainment event as it grossed $14.1 million, surpassing the venue's previous record of $10.9 million set by WrestleMania 30 when it comes to the city in 2014.
READ: WrestleMania 34: Legendary wrestler Dara Singh inducted in WWE Hall of Fame
When it came to the matches, AJ Styles and Shinsuke Nakamura produced another solid match while Brock Lesnar continued his domination with a win over Roman Reigns to successfully defend the WWE Universal Championship. These two titles, as well as Charlotte's WWE Smackdown Women's Championship which she retained against Asuka, were the only ones that did not change hands on Sunday. Both the tag team divisions saw the crowning of new champions while Nia Jax and Seth Rollins claimed the WWE RAW Women's championship and WWE Intercontinental title respectively.
The Indo-Canadian wrestler Jinder Mahal also had a great outing in New Orleans as he became the first Indian-origin performer to win the WWE United States Championship after beating Randy Orton, Bobby Roode and Rusev in a fatal-four way match. It capped off a great year for Mahal which saw him win the WWE Championship and this win will further solidify his position in the WWE roster.
The Undertaker returned to in-ring action almost a year after his last match and although his match against John Cena lasted just four minutes, the crowd were on their feet as the veteran added another WrestleMania moment to his illustrious career. Daniel Bryan, who also made his return after three years, received an equally loud reception from the crowd as he and Shane McMahon defeated the team of Kevin Owens and Sami Zayn. However, one of the biggest cheers of the night came when former UFC superstar Ronda Rousey made Stephanie McMahon tap out.
It was an emotional roller-coaster for the fans present at WrestleMania 34 as the show produced a number of great moments and matches. The chants never stopped at the Superdome as the crowd were on their feet for the majority of the show and for fans like Gemma Lee Hay, who was travelling with her son from Edinburgh in Scotland, it was truly a dream come true to attend the epic event.
"This was my first Wrestlemania and I absolutely loved the ambience. I wanted to see Ronda Rousey and AJ Styles win their matches and The Undertaker return was just amazing!" she said at the event.
Close Story