Pro Kabaddi League 2018, Jaipur Pink Panthers vs Haryana Steelers, Highlights: As It Happened
The inaugural PKL Champions Jaipur Pink Panthers will take on hosts Haryana Steelers in the second match of the night,who will look to continue their unbeaten record against Jaipur. 2 of the top 5 most expensive players are also taking part in the game but both are yet to make an impact in PKL 6. Most expensive player of PKL, Monu Goyat (1.51 Cr) has scored just 18 raid pts in 3 games, while 3rd joint most expensive player Deepak Hooda (1.15 Cr) scored just 2 raid points in their first game against U Mumba.Follow highlights of PKL 2018 match between Haryana Steelers vs Jaipur Pink Panthers, below -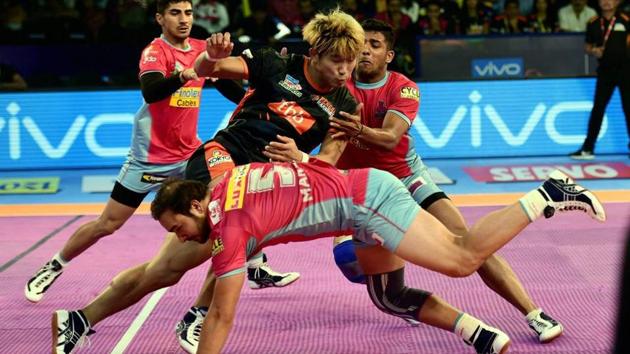 Updated on Oct 16, 2018 11:16 PM IST
22:20 hrs IST
Match ends, Jaipur win
Jaipur Pink Panthers hung on to their advantage in the end and registered a 36-33 win over hosts Haryana Steelers. Naveen's heroics went in vain as he ended with 17 points for Haryana but still ended up to be on the losing side.
22:17 hrs IST
Super tackle from Jaipur
It is all but over now as Naveen is taken down by the defenders and Jaipur have effected a super tackle. They now lead 36-32 with merely seconds to go.
22:13 hrs IST
Super raid from Haryana
Naveen has turned the match on it head as he effects a super raid and a bonus point for win four points for Haryana Steelers. Steelers now trail 30-34 with just two minutes left in the half.
22:08 hrs IST
Super 10
Jaipur's Nitin Rawal keeps raking in the points and completes a super 10 by winning his latest raid point. Four minutes left to be played and Jaipur lead 32-23.
22:02 hrs IST
Turning point of the match?
Nitin Rawal gets rid of two players of Haryana and wins two more points for his team. But Haryana's Naveen then wins a raid point to reduce the deficit. Then, two Haryana defenders bring down Vikas Kandola to effect a super tackle. Haryana now trail 23-31 with eight minutes left to be played.
21:58 hrs IST
Jaipur's Anup Kumar on fire
Skipper Anup Kumar wins four points for his team — two raid point and two points for all-out. After the all-out, Monu Goyat is taken down comfortably and Steelers fall way behind now. Super raid from Deepak Hooda takes Jaipur's lead to 27-17 with 11 minutes left to be played.
21:55 hrs IST
Steelers back in the game
Bhuvneshwar Gaur was the last man standing for Haryana and he wins a bonus point as well a raid point to cut down the deficit. Mohit Chillar then goes into the orange zone and concedes a point. Haryana now trail 17-19.
21:52 hrs IST
Jaipur on top
Nitin Rawal wins a raid point to extend Jaipur's lead. Vikas Kandola also concedes a point and he is off to the bench after being thrown off the court by the Jaipur defenders. Jaipur lead 16-13 with four minutes gone in the second half.
21:48 hrs IST
Second half begins
The players are back on the court and we are underway in the second half of the clash. Haryan Steelers have started off with a tackle point and Deepak Hooda is off to the bench. But Monu Goyat is thrown out of the court and Jaipur lead 14-12 in the first few minutes of the second half.
21:41 hrs IST
Half-time
Vikas Kandola uses his foot well to touch the torso of a Jaipur defender to win a raid point. This means that the two points are locked at 12-12 at half-time. Steelers' Naveen is the highest scoring player of the match with four points in his kitty.
21:36 hrs IST
Jaipur hit back strongly
Haryana opened up a decent gap as Naveen won two raid points to leave Jaipur reeling. But Anup Kumar changed the flow of match by winning three points in quick succession and the two teams are locked at 10-10.
21:32 hrs IST
Nothing to separate the two teams
In the early parts of the match it seems clear that there is nothing to separate the two teams. After Naveen won a raid point for the Steelers to make it 6-6, Jaipur's Nitin Rawal is taken down by their defenders. Steelers hold a slender 7-6 lead with 8 minutes to go.
21:28 hrs IST
Jaipur hit back strongly
Deepak Hooda is brought down emphatically by the Steelers' defenders to win a point. But Steelers' Vikas Kandola also heads off to the bench after being tackled hard by the Jaipur defenders. Anup Kumar then makes it a one-point game by winning a raid point for Jaipur
21:23 hrs IST
Hosts off to a good start
Steelers have taken a quick 3-1 lead in the match and at the heart of it has been skipper Monu Goyat who has won two raid points thus far. Navin has won the third raid point for the Steelers. Deepak Hooda opened the account with a raid point for Jaipur in the first few minutes of the half.
21:18 hrs IST
Toss
Jaipur Pink Panthers have won the toss and they have opted for choice of court - right. This means that Monu Goyat's Haryana Steelers will start the proceedings with the first raid of the night.
21:12 hrs IST
Head to head
Haryana Steelers have been unbeaten against Jaipur Pink Panthers. The meeting between the two teams in Sonepat in PKL 5 was ended in a 27-27 tie. Jaipur lost their first match of the season against U Mumba. Haryana Steelers have a 1-3 losing record this season.
21:06 hrs IST
Hello and welcome
A very warm welcome to the second Pro Kabaddi League match of the night between Haryana Steelers and Jaipur Pink Panthers which will be played at the Moti Lal School of Sports in Rai (Sonepat).
Close Story