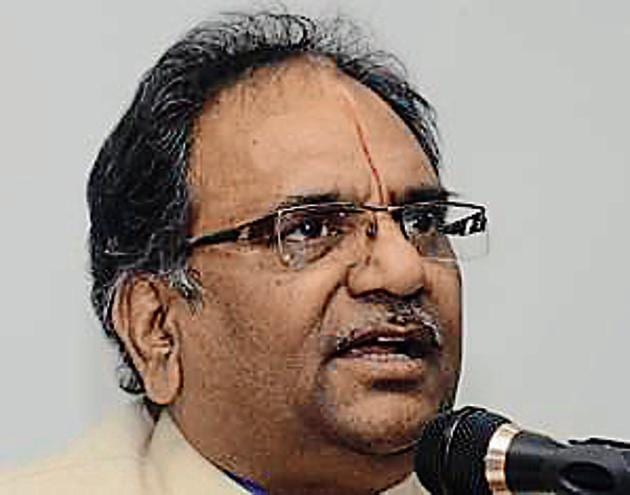 RTI Commissioner Sridhar Acharyulu accuses union government of interfering with the independence of CIC
Acharyulu also expressed his astonishment over the Supreme Court asking the Centre to submit details of the decision-making process of the Rafale deal. He said, "I am surprised that now the Supreme Court has asked the government for the information regarding the decision-making process of the Rafale deal. Technical details of the deal are not important. Besides, why should the SC even ask for this information in the first place," said Acharyulu
Hindustan Times, Pune | By Parth Welankar
, Pune
UPDATED ON OCT 14, 2018 02:58 PM IST
Accusing the Union government of trying to interfere with the independence of the central information commission (CIC) by proposing amendments to the Right to Information (RTI) Act, professor Sridhar Acharyulu, information commissioner of India, expressed his staunch opposition to the proposed changes in the RTI Act.
The proposed amendments include enabling the Centre to prescribe the term of office, salaries and allowances and other terms and conditions of service of chief information commissioners, information commissioners, state chief information commissioners and state information commissioners.
Acharyulu was in the city to deliver a lecture on the topic 'How RTI empowers democracy and transparency' at a programme organised by the NGO Moneylife Foundation and Pune Union of Working Journalists at the Patrakar Bhavan on Saturday.
Hitting out at the Union government, Acharyulu, said, "The amendments proposed by the central government in the RTI Act, verily mitigate the power of the commission. By amending the existing act, the government is trying to reduce the status and the power of the central information commission."
He added, "In the bureaucratic hierarchy if the CIC commissioner is below the secretary, he cannot pass the order to provide information sought through an RTI.These changes will in a sense enervate the power of the commission. Central government has no authority to make any changes in this regard and what they have proposed is absolutely wrong."
Acharyulu also expressed his astonishment over the Supreme Court asking the Centre to submit details of the decision-making process of the Rafale deal. He said, "I am surprised that now the Supreme Court has asked the government for the information regarding the decision-making process of the Rafale deal. Technical details of the deal are not important. Besides, why should the SC even ask for this information in the first place," said Acharyulu.
Giving information is a symbol of good governance, however, when the government does not want to give information, it uses all the possible clauses to avoid the situation and refuses to give the information eventually, he added, referring to the Rafale deal.
What is CIC?
The CIC, set up under the RTI Act, is the authorised body, established in 2005, under the government of India, to act upon complaints from those individuals who have not been able to submit information requests to a central public information officer or state public information officer due to either the officer not having been appointed, or because the respective central assistant public information officer or state assistant public information officer refused to receive the application for information under the RTI Act.
Close