The roses don't bloom like they used to: A letter from a daughter to her father
Hindustan Times |
Sudha Menon
Jun 19, 2016 12:11 PM IST
Sudha Menon, author of Legacy: Letters from Eminent Parents to their Daughters, writes to her father, who passed away in February
Sudha Menon is the author of Legacy: Letters from Eminent Parents to their Daughters. Here, she writes to her late father, C Radhakrishnan, former vice-president of the All India Railwaymen's Federation, who passed away in February.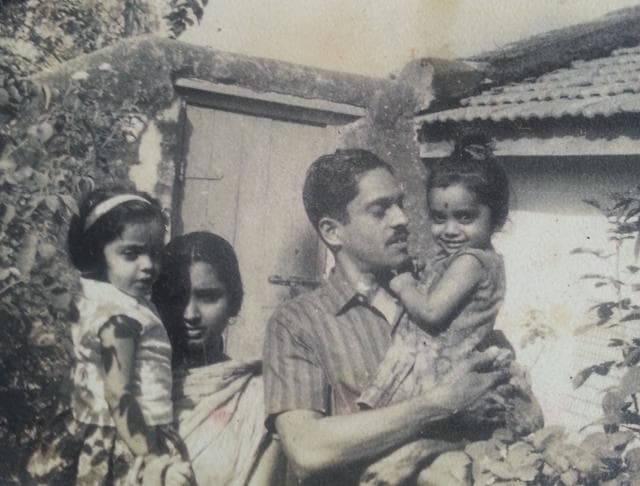 It has been nearly four months since that afternoon when you opened your eyes and looked at us one last time before leaving for your onward journey, Achcha, and the world has ceased to be the place it used to be, without your comforting presence.
They say that you lived a full life. "He lived to the ripe old age of 83," they comfort me, but there is not a breath I take when I don't miss you so much that I wish I could just float up to the sky and meet you there, no doubt watching the circus in the mortal world with glee. They say we all have to die one day and that the cycle of life and death is preordained but that is still no consolation for the fact that I can't call and hear your familiar voice at the other end, asking after my health. It was the family joke that you were the fittest among us, the one with the six-pack, while we struggled to suck in our sagging stomachs in your presence.
Watch: Fathers and Sons - Karan Johar talks about his dad at IIFA, Singapore
I miss the generosity of your welcoming smile when I go home now, dear Achcha, and the television playing on full volume so that everybody else in the house had to shout to be heard above the din.
It is a lonely journey without you, Achcha. I miss calling you when I have something new and exciting to share. Or to talk about your favourite PG Wodehouse book that I re-read for the 50th time. I remember how your voice lit up when I called to tell you about a cheesecake that my daughter, your eldest granddaughter, baked. She misses you too, Achcha, because you were her admirer number one; the taster-in-chief of everything she baked.
They say time takes away the sharp edge of pain and that memories fade with time. How is it then, Achcha, that I can still feel the warmth of your hand in mine, as you waited to get well in hospital? A few days ago one of your favourite Mukesh songs played on the radio and the tears came unbidden from the memory of you in that hospital bed, your fingers tapping out the tune. From the thought that we could not sing together, as we did when I was little.
I feel like I didn't say enough, dear Achcha, about just how much it meant to me to grow up surrounded by your love. I was the mousy, scrawny, average child nobody noticed but you insisted I was your smartest, loveliest daughter, showing me off proudly so that I came to believe I had a place in the universe. Your faith in me gave me the wings I might never have discovered on my own.
Watch: Deepika reads a letter from her father at the Filmfare Awards
I want to tell you that every day I strive to be the parent you were to us. You let us fall, get hurt and learn from our mistakes but we knew you would always be there to pick us up when the going got too tough to handle. A few months before you passed away, you said: "Give your children an education that will set them on their way and step aside so they can embark on their own journey, unfettered."
I want to tell you what I should have said a zillion times while you were still here, Achcha. I love you. I say it now every night as I lie awake, thinking of the countless lost opportunities. Your last birthday, when I could have come home to celebrate but didn't because I thought, foolishly, that I would make it next time. Or that trip to Hrishikesh I promised I would go on with you and Amma but never did. You wanted to swim in the Ganga.
It was not in your nature to harbour regret, anger, sadness. I remember the day the doctor came to your room and I was stern, asking him why he was unable to get a grip on your condition. You turned to him and apologized on my behalf. "Never hurt anybody by questioning their professional dignity," you said to me later.
Read: Being Narayana Murthy's son - Rohan Murthy on his dad
I remember you saying to the scores of your fellow workers who arrived at the hospital: "Don't worry, I will be fine in a few days and then we will have to make up for the lost time. There is so much work to be done for the workers of this world."
I remember your zest for life, your commitment to your causes. I still see your familiar figure sitting erect on the drawing room sofa, reading the day's newspaper; or talking to the innumerable roses that you grew on your window sill. The roses don't bloom like they used to, Achcha. Nobody talks to them anymore...
Have a story about your own dad -- or someone who was like a father to you? Share your memories and messages in the comments section, or tweet with the hashtags #htTweets #Father'sDay