Aunt meets nephew after almost three years, his reaction is priceless. Watch
The video of the aunt meeting her nephew after almost three years was posted on Instagram.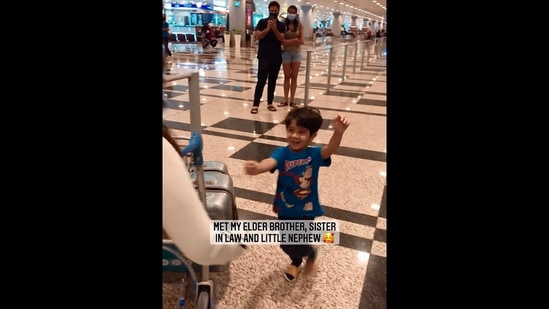 Published on May 13, 2022 11:56 AM IST
"Can't express the joy," this is what Instagram user Kanika Malhotra posted while sharing a video showcasing her reunion with her family, especially her nephew. The video shared by this a singer and a performer is not just sweet to watch but may leave you a tad bit emotional too.
Malhotra, besides the apt caption, also posted a few hashtags while sharing the video. Some of them are #reunion, #visitsingapore, #nephew, and #brothersisterlove.
The video opens to show a text insert. "Met my elder brother, sister-in-law, and little nephew," it reads. The video opens to show Malhotra walking towards her family with her luggage trolley. However, before she could reach her brother and sister-in-law, her nephew comes running towards her. He gives her a tight hug and keeps on holding her. The clip ends with her brother giving her a hug too.
Take a look at the super adorable video:
The video has been posted on April 29. Since being shared, the post has accumulated nearly 3.1 lakh likes. It has also gathered tons of love-filled comments. A few also shared how much they miss their family.
"Nephew's reaction is priceless," wrote an Instagram user. "Such a nice feeling! My parents are the only ones living in the Netherlands. So when we visit Indonesia and see all our family it is a feeling so out of this world," expressed another. "That's so cute and touching," commented a third. "Nephew loves her Bua more," posted a fourth. "How he was sitting and ran to hug is so adorable," shared a fifth.
What are your thoughts on the video?
Close Story
Personalise your news feed. Follow trending topics