Kapil Sharma's ex says he might be bipolar, blames new girlfriend
Updated on Apr 07, 2018 07:10 PM IST
Reacting to Kapil Sharma's Twitter rant and police complaint that he has filed, his former colleague and ex-girlfriend Preeti Simoes says that he is not the same person she knew, and she suspects that his girlfriend Ginni is behind the controversial tweets.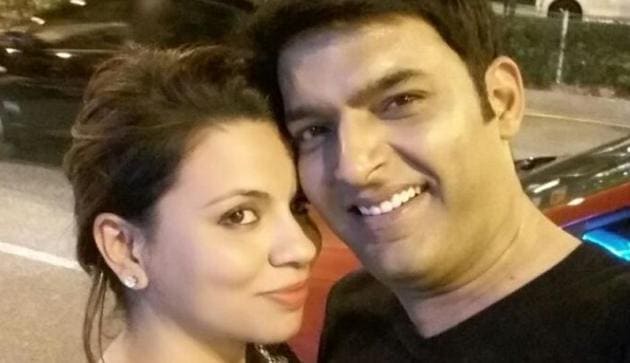 Hindustan Times |
, New Delhi
Monika Rawal Kukreja
That actor-comedian Kapil Sharma is going through a bad phase on both personal and professional fronts is now largely known. The latest development is that the standup comic has become a butt of a lot of jokes after a series of unsavoury tweets he posted on his account.
The drama
On Friday afternoon, Kapil abused the editor of entertainment portal SpotboyE in a series of tweets. However, soon after, he deleted the tweets and apologized saying that his account was hacked when those tweets were posted. But a very public social media drama didn't end there. Late evening, he tweeted that it was indeed him who posted all those tweets, and it was his team that had taken off his earlier tweets and blamed it all on a hacked Twitter account.
In response to all this, the editor shared an audio file which he claimed was a recording of the conversation he had with Kapil Sharma over a phone call. In the recording, a person being alleged as Kapil is heard abusing perhaps the editor.
All this didn't end even after that. On Saturday morning, Kapil tweeted again. This time he posted a copy of a police complaint that he has filed against his former colleague and ex-girlfriend Preeti Simoes, her sister Neeti Simoes, and the editor of the website he referred to in his tweets.
The ex speaks
We contacted Preeti, who was also the creative producer of his previous shows Comedy Nights with Kapil and The Kapil Sharma Show, seeking a response to the whole affair of things. Preeti, who sounded evidently disturbed, said: "I am hoping it's not Kapil who has posted these tweets. The Kapil I know is a very intelligent, bright, young and dynamic man. It's most certainly his girlfriend Ginni Chatrath or maybe some friend, who is using his phone and doing all this. And if this is what Ginni and her one year with Kapil has brought him to, I feel sorry for both of them — Kapil for the choices he has made, and Ginni, because she didn't know how to handle a Kapil Sharma."
'Kapil might have bipolar or schizophrenia'
She added that she was worried for Kapil's mental health. "But, if it is [indeed] him, my biggest concern is his mental health, which has deteriorated drastically in the past few months. I've spoken to him many times, he has messaged me and visited me and I've realised that he's not the same man that he was a year ago. It's not just depression.. it could be bipolar disorder or schizophrenia. He's getting suicidal thoughts. I've seen a very different him. His face has changed, his eyes have changed. He switches topics when he is talking. He repeats the same things 10 times when he speaks to me. Whoever has doing this to him, I really want to say, 'give up, move out, and take him to a rehab and give the poor man a chance to live'. I am scared because tomorrow, if in this state of depression, he does something, they'll lose such a beautiful person," she states.
Reacting to Kapil's Twitter rant and the alleged abusive phone call to the journalist, Preeti says she's at loss of words. "This is a sick man's behaviour. As for those abuses, in 8 years of my life with him, where we were in a [romantic] relationship as well, I've never heard him abuse. I was shocked to hear such condescending way of talking about women. Whoever the journalist's daughter is, I apologise to the woman. It's really sad what he said on record," Preeti says.
'When he broke up with me.... I could have taken out lot of dirt about our personal life'
Kapil has shared a copy of the police complaint on twitter accusing Preeti and others of "instigating negative stories" against him . Preeti says she hasn't received any legal notice yet. "It's so childish and immature to even respond. Instead of getting into legal notices, if we really love and care for him... take him to a doctor (sic)," she says adding she has no clue about the 'instigation' Kapil is talking about.
"I want to know one negative story of his personal life or information that only I could have had. When he broke up with me on a public platform and tweeted about another woman in his life, I could have taken out lot of dirt about our personal life, our equation and what he did to us, but I didn't say a word. What came out in the media was only about his shoot cancellations. Even in the phone call, I didn't hear him pick up a topic asking the journalist that how did you get this [personal] information. He's claiming that Dawood's wife picks up the phone and all that, he's clearly hallucinating (sic)."
'Kapil is crazy'
And what about the extortion allegations that Kapil has accused Preeti of? "He is crazy. I have my own production house and I come from a very educated and professional family background. Why will I extort from him a petty amount of ₹25 lakhs, which will be divided among three people (laughs)?"
'Is Kapil doing this because we are doing a show with Sunil?'
Preeti also wonders if it's only coincidental that Kapil chose to do all this on the day when his former colleague and [now] arch rival Sunil Grover was to start shooting for his new show that she is producing. "Is Kapil doing all this because we [Preeti and Neeti], as a team, after one year of waiting for him... finally decided to go ahead and do a show with Sunil? Is that what's pinching him now? I think Kapil has put himself in a situation where he's made certain choices and he's not able to accept them. He's not able to accept that people who he left so unceremoniously in his life, have actually moved on and built their lives again. But we did talk about collaborating again for work, and that's because I feel bad for him, as I know how to handle him, and nobody else can."
We tried contacting Kapil multiple times, his phone was not reachable.
Interact with Monika Rawal Kukreja at Twitter/@monikarawal
Close Story
Personalise your news feed. Follow trending topics