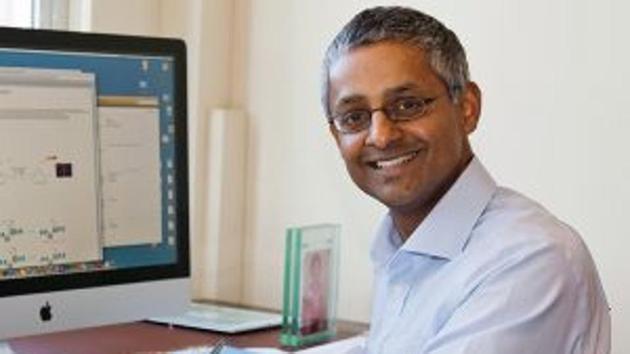 Knighthood for Indian-origin DNA expert at Cambridge
Shankar Balasubramanian, the Chennai-born co-inventor of Next Generation DNA sequencing, is to be conferred a knighthood along with other British honours for Indian-origin individuals.
Hindustan Times | By Prasun Sonwalkar, London
UPDATED ON DEC 31, 2016 07:11 PM IST
Shankar Balasubramanian, the Chennai-born professor of medicinal chemistry at the University of Cambridge, is to be conferred a knighthood along with other British honours for Indian-origin individuals, it was announced in the New Years Honours List 2017.
The list, released on Friday night, includes several Indian-origin academics and individuals who have distinguished themselves in different walks of life. It also includes the largest ever number of individuals from the black and Asian minority ethnic communities of Britain.
Balasubramanian, 50, is the co-inventor of Next Generation DNA sequencing, considered the most transformational advance in biology and medicine for decades, the citation accompanying his knighthood announcement said.
"Solexa sequencing, as it is now known, allows an individual genome to be sequenced in a day or two at a cost of less than £1000; previously, sequencing the human genome took years of work and cost billions," it said.
"His work has spawned an entirely new discipline of Bioinformatics. More recently, he has made major contributions to understanding the role of DNA-quadruplexes in cancer and invented a method for the sequencing of epigenetic modifications."
Ram Prasad "Robin" Sengupta, chairman of the Institute of Neuroscience in Kolkata, is in line for an OBE for services to people with neurological disease in India and Britain, and for services to the relationship between the two countries.
The other Indian-origin academics in the honours list are Kamaldeep Singh Bhui, professor of cultural psychiatry and epidemiology, Queen Mary University of London, and Anita Thapar, clinical professor at the Institute of Psychological Medicine and Clinical Neurosciences, Cardiff University.
The list includes several individuals related to the Sikh faith, including OBEs for Sital Singh Sitara and Jasvir Singh (both London) and Brinder Singh Mahon (Birmingham), and MBEs for Surjit Singh Chowdhary (Glasgow), Parkash Singh Dhami (Shropshire) and Baljit Singh Rana (Kent).
Neena Gill, member of the European Parliament from the west Midlands, is honoured with an OBE for parliamentary political service, and entrepreneur Priyesh Patel gets an MBE for services to the economy in Leicestershire and exports.
Other Indian-origin individuals honoured are:
OBE: Hardip Singh Begol (for services to education, London), Ravindra Pragji Govindia (for services to local government and the community in Wandsworth, London), Poonam Gupta (for services to business and charity, Renfrewshire), and Avtar Singh Purewal (for services to prisoners, West Yorkshire).
MBE: Anjana Purnawaty Appiah (for services to children, London), Krushnah Appiah (for services to children, London), Sunita Golvala (for services to South Asian Dance in the UK, London), Sarbjit Kaur (for services to policing, Merseyside), Massa Singh Nandra (for services to charity and the community in South London), Vanita Patel (for charitable services to human rights, London); Mukesh Shah (for charitable and community service in the UK and abroad, London), Sangeeta Rajesh Shingadia (for services to debt collection and charitable service in the UK and India, London), Tony Singh (for services to the food and drink industry and charity, London), Jaitinder Verma (for services to diversity in the arts, particularly drama, London), and Mira Vyas (for services to welfare and the community in London).
BEM (British Empire Medal): Prithipal Singh Kang (for services to fire and rescue awareness and community cohesion in north Kent), Davinder Kaur (for services to women's enterprise and the community in Sandwell, West Midlands), Sewa Singh Nandhra (for services to the community in Woolwich, London), Carmen Kamini Patel (for services to education, West Sussex), Paritaben Patel (for voluntary and charitable services to poverty reduction in India and London), Indu Popat (for services to Asian women, Greater Manchester), and Vijey Rattan (for services to interfaith relations in Enfield, London).
Close