Jagmeet Singh, leader of Canada party, in spotlight over Khalistan-Catalonia stand
Gurpatwant Singh is echoing the strategy adopted by hardline groups such as Sikhs for Justice (SFJ), which is spearheading the so-called "Khalistan 2020 Referendum" effort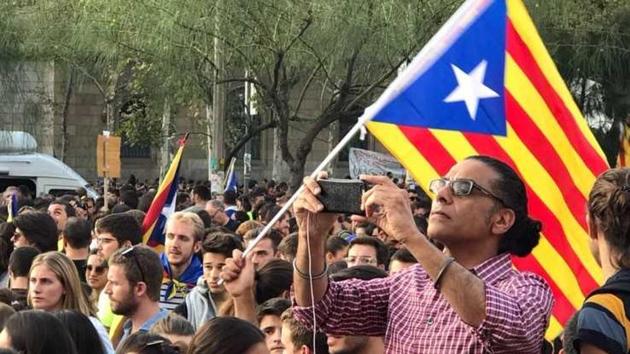 Updated on Oct 22, 2017 01:41 PM IST
As Jagmeet Singh, the newly elected leader of the Canada's New Democratic Party (NDP), is busy with a countrywide introductory tour, he has made it clear he considers self-determination to be a "basic right" in places such as Punjab, Catalonia or Quebec.
Singh was quoted by Huffington Post as saying during a news conference in Ottawa last week: "So whether it is in Punjab, for the people of Punjab, or whether it is in Catalonia, for the people of that region, whether it is in Basque, wherever that is, whether it is in Quebec, it's a basic right. Everyone should be able to do that."
The 38-year-old politician has already been criticised for his support for the legal right of the province of Quebec to break away from Canada.
Huffington Post also quoted him as saying on the issue of self-determination, "It is a right that is so fundamental and if people choose their future, I am completely in agreement with their decision. I, personally, would love us to stay together, but at the same time I respect the decision without fault."
But in equating self-determination and the issue of recent separatist movements to the demand for a separate Sikh homeland, Singh is echoing the strategy adopted by hardline groups such as Sikhs for Justice (SFJ), which is spearheading the so-called "Khalistan 2020 Referendum" effort.
This may be a coincidence, and SFJ's legal advisor Gurpatwant Pannun said that while he had communicated with Singh in 2010-11, there had been "no contact" since then.
Pannun was in Irbil, the capital of the region of Kurdistan, as a referendum was held there and afterwards, he travelled to Barcelona for the Catalonian vote for separating from Spain.
He is in currently in Italy, where two regions are seeking partial autonomy. Speaking to Hindustan Times from Milan, Pannun said, "I'm visiting these places to see the procedure, to see the outcome, and the legalities and the formalities – how they are handling it."
Pannun did not react to the similarity in Singh's stance with that of the SFJ, saying, "I wouldn't comment on what he says because he is a political person and we are running a campaign for the independence of Punjab."
Shuvaloy Majumdar, Munk Senior Fellow at the Macdonald-Laurier Institute in Ottawa, who has written in favour of a free Kurdistan, felt it was "a bit opportunistic" for votaries of Khalistan to tie themselves to the movements in Kurdistan or Catalonia, because the circumstances in India were different.
"The idea they (Sikhs in India) are perpetually persecuted is not a reality," he argued.
But Majumdar was scathing in his assessment of the NDP leader's position: "There doesn't appear to be a secessionist cause that Mr Singh can't help being romantically drawn to. Conflating Quebec and Khalistan is just subversive to Canada – by fomenting separatism from within, and justifying terrorism abroad."
It appears, however, that the issue of Khalistan will continue to be a factor that could figure frequently in Singh's rhetoric as he continues his campaign leading the NDP.
Singh, who was denied a visa by India in December 2013 and has been critical of the Narendra Modi government, is a member of the Ontario provincial parliament.
He also introduced a motion in the Ontario Assembly in 2016 for the 1984 anti-Sikh riots in India to be termed "genocide".
Soon after election as the new head of the NDP, Singh attracted controversy with his refusal to condemn the practice at some Canadian gurdwaras of displaying portraits of Talwinder Singh Parmar, the man considered the "mastermind" of the Air India flight 182 bombing in 1985 that claimed 329 lives.
Close Story