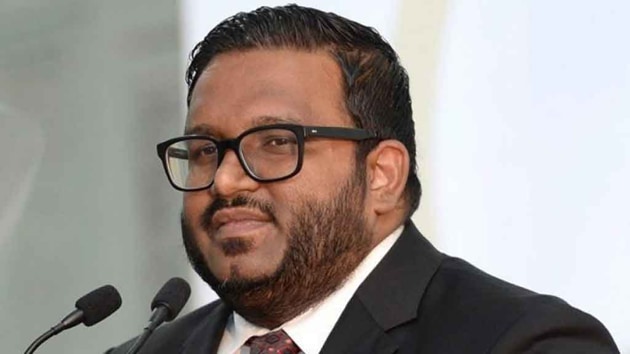 Ex-Maldives vice president detained at Tamil Nadu for illegally entering India
Officials who checked Ghafoor found he didn't have valid travel documents.
New Delhi | By M Manikandan
UPDATED ON AUG 02, 2019 07:08 AM IST
Former Maldives vice president Ahmed Adeeb Abdul Ghafoor was detained by Indian security agencies in the waters off Tamil Nadu's Thoothukudi coast on Thursday while trying to sneak into the country disguised as a crew member of a tugboat.
Security officials who boarded the tug boat found that Adeeb did not have valid travel documents, officials of Thoothukkudi Port said. When the tugboat left for the Maldives on July 11, it had a crew of nine but there was an additional person on board when it began its return journey on July 27, the officials said on condition of anonymity.
"The Mongolian-flagged tugboat named Virgo 9 left the Maldives on July 29 and came near the Thoothukkudi coast by noon on Thursday. A total of 10 crew members were on board. While eight are Indonesians, one was from India and the tenth was Adeeb," said a senior official of Thoothukkudi Port.
"As we were alerted by the Maldivian authorities, we informed the local police, Q Branch and Intelligence Bureau. They rushed to the tugboat at sea to ascertain the facts," the official added. The tug boat wasn't permitted to enter the port.
In New Delhi, external affairs ministry spokesperson Raveesh Kumar said Ghafoor was denied entry into India.
"There are designated entry points through which foreigners are allowed entry into India. The entry is facilitated on the basis of appropriate, valid travel documents. In the instant case, since he was not entering India through a designated entry point and did not possess the valid documents, he has not been permitted entry into India," Kumar said.
People familiar with developments in Tamil Nadu said Ghafoor was detained after officials who checked him found he didn't have valid travel documents. An inquiry was underway to ascertain why the Maldivian leader tried to enter India, they said. A report was also sent to the Union home ministry and external affairs ministry. The security agencies are also yet to confirm whether Ghafoor planned to seek asylum in India, the people said.
Thoothukkudi's district collector Sandeep Nanduri said he was "unaware about the development". Media reports in the Maldives said Ghafoor travelled to India after courts dismissed several convictions against him. However, his passport was withheld by immigration authorities because of ongoing investigations against him.
The reports said Ghafoor hadn't attended a recent meeting at the Anti-Corruption Commission, where he was to make a statement in connection with an investigation.
Ghafoor is facing several criminal charges, including a graft charge related to alleged embezzlement of $90 million from the Maldives Marketing and Public Relations Corporation. He was also named as a witness in a money laundering case against former president Abdulla Yameen. He had travelled to India with his wife for medical reasons earlier this year with the permission of the Maldives Correctional Service.
Topics
Close