Trump expands US travel ban to North Korea, Venezuela; Sudan off the list
Updated on Sep 26, 2017 08:22 AM IST
President Donald Trump issues new travel ban, saying the list is created to "advance foreign policy, national security and counterterrorism objectives."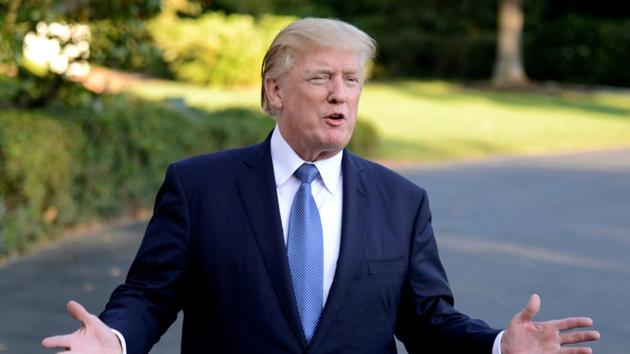 Hindustan Times, Washington |
Yashwant Raj
Trump administration issued a new travel ban order on Sunday indefinitely suspending the entry of citizens and expanding the list of countries from six to eight, including North Korea, whose leader and officials have been engaged in an escalating battle of insults with the US president.
Sudan was dropped from the previous list of six nations, which were all Muslim-majority, and three have been added. The new order applies to Iran, Libya, Somalia, Syria, and Yemen, and the new ones, Chad, North Korea, and Venezuela.
"We cannot afford to continue the failed policies of the past, which present an unacceptable danger to our country." Trump said in a statement, "My highest obligation is to ensure the safety and security of the American people, and in issuing this new travel order, I am fulfilling that sacred obligation."
The new order goes into effect on October 18, and will be less sweeping than its previous iterations, and its implementation will be country specific. Students and exchange students for Iran, for instance, will be exempted. And only certain government officials of Venezuela will be affected.
The order for North Korea made no mention of its missile and nuclear tests or its leadership's escalating war of words with President Trump. There was no mention also of terrorism or other security threats cited by the administration for the restrictions applicable to other countries.
It only said, "North Korea does not cooperate with the UnitedStates Government in any respect and fails tosatisfy all information-sharing requirements. The entry into the United States of nationals of North Korea as immigrants and nonimmigrants is hereby suspended."
For Chad, a Central African country with 55% Muslim population and the rest Christian, the order cited the presence of active terrorist groups there such as Boko Haram, Islamic State and al Qaeda in Maghreb and the country's failure to provide key terrorism-related information adequate information.
For Venezuela, it was the lack of adequate terrorism-information sharing. And those censured are mostly officials engaged in the screening and vetting procedures, and their families. For other Venezuelans, the administration will process them with the help of "alternative sources for obtaining information".
This is a third version of a travel order President Trump signed exercising his executive powers, which enable him to not having to get congressional endorsement, in January just days after moving into the White House. That order had temporarily banned the entry of all citizens from seven Muslim-majority nations — Iran, Iraq, Yemen, Syria, Sudan, Somalia and Libya — for 90 days and all refugees for 120 days.
It had a disastrous roll out and was greeted by national and international confusion and outrage and soon came stuck in the American judicial system. The administration returned a few weeks later with a narrower order that had dropped Iraq from that list, and exempted citizens already issued visas.
It was further watered down by the Supreme Court that forced the government to exempt those with "bona fides" reasons to travel to the United States, and a broad swathe of relatives of people of these nations already residing in America, and refugees were allowed to bypass he restriction.
That order was to be in force for six months, a period that expires later next month. The new restrictions will last for an indefinite time — the White House said they "may be lifted as they (the eight countries) work with the United States Government to ensure the safety of Americans".
The overall rationale for the restriction is that the United States doesn't trust the vetting system of these countries, and there is not enough information sharing taking place between them and the US, and until that is fixed, no new visas will be issued to their citizens with broader aim of keeping out terrorists.