Sushma Swaraj demands justice for Pak Hindu girls forced to convert, marry
Updated on Mar 26, 2019 12:59 PM IST
External Affairs Minister Sushma Swaraj has demanded that the two minor Hindu girls, abducted and forced to convert to Islam and marry Muslim men, "should be restored to their family immediately".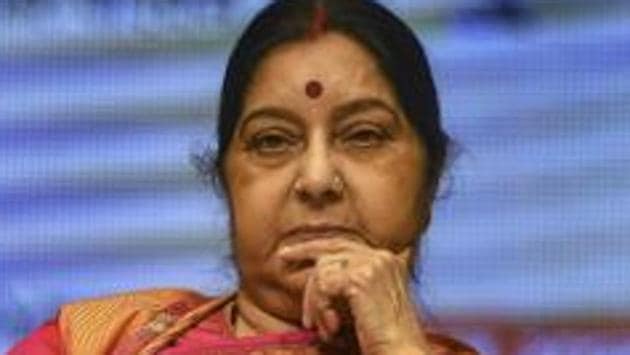 Hindustan Times, New Delhi |
HT Correspondent
External Affairs Minister Sushma Swaraj on Tuesday demanded that the two Pakistani Hindu girls, who were allegedly abducted, forcibly converted to Islam and married to Muslim men should be reunited with their families. Both the girls are minor.
"Forced conversion of Hindu girls in Pakistan: The age of the girls is not disputed. Raveena is only 13 and Reena is 15 years old. Even the Prime Minister on Naya Pakistan will not believe that girls of this tender age can voluntarily decide about their conversion to another religion and marriage," Swaraj tweeted taking a dig at Pakistan Prime Minister Imran Khan's catchphrase to assert "new thinking" in his government
Khan has referred to 'Naya Pakistan' in his public speeches after coming to power in last year's parliamentary elections. Khan has also ordered probe into the incident.
Swaraj said, "Justice demands that both these girls should be restored to their family immediately."
Meanwhile, in Pakistan, Islamabad High Court ordered the government to ensure protection to the minor girls and take over their custody. The two underage girls are sisters from Ghotki in Sindh. They were allegedly forcibly converted from Hinduism and married to Muslim men on the eve of Holi.
Also Read | 7 held for abduction of Hindu girls in Pakistan
The incident came to public knowledge after the father and brother of the minor girls posted videos on social media giving details of the case. Civil society activists in Pakistan staged protests including one outside the Karachi Press Club on Sunday.
Amid complaint by the family members of the girls and protest by activists, another video was released on social media showing the two sisters stating that they converted to Islam out of their own free will.
On Monday, police detained at least seven people, news agency ANI reported, in connection of the case. One of those held was the 'nikah khwan' (marriage officiator), the agency said.