Trump's State of the Union address in Washington: Sidelights
Published on Jan 31, 2018 01:39 PM IST
While Donald Trump's speech was the prime focus – it was his first address to a joint session of the US Congress – there were developments on the side that were of some significance.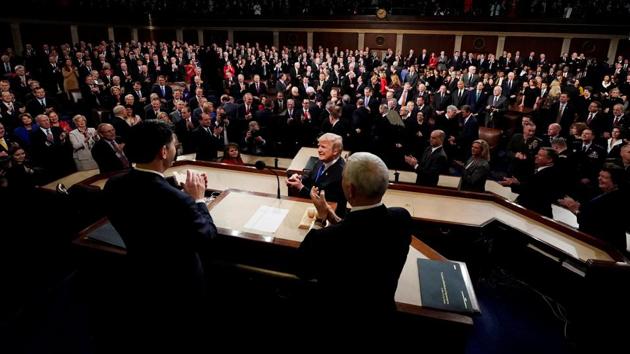 Hindustan Times, Washington |
, Washington
Yashwant Raj
US president Donald Trump delivered his first State of the Union address in Washington on Tuesday night, speaking for 80 minutes, nearly the longest by an American president.
Addressing the deep divide in Congress, Trump called for unity, stressing the need for a nation to work together "as one team, one people, and one American family", apart from offering a deal on immigration, and talking tough on trade and terrorism.
But apart from what Trump said, there were also details in what went unsaid.
Jayapal, others boycott address
Some Democratic lawmakers boycotted the address, including Pramila Jayapal, the Indian American member of the House of Representatives from Washington state.
In a statement on Tuesday, the Congresswoman said, "I will not be attending the State of the Union because I refuse to normalize a president who uses the highest office of the land to fuel racism and hatred... It's not about mere political differences or opposing perspectives on policy – I cannot accept bigotry coming from the highest office of the land."
Jayapal had announced her decision to boycott the address earlier.
Murdered Indian techie's wife among special attendees
Sunayana Dumala, whose husband Srinivas Kuchibhotla was murdered in a hate-crime last January, was in the visitors' gallery when Trump made his address. There as a guest of Hevi Yoder, the Republican congressman from Kansas, Dumala had in an interview to HT said she looked forward to hearing a "positive" and "welcoming" message from the president.
#MeToo at the State of Union
Continuing the theme from the Golden Globe awards, several Iawmakers dressed in black in solidarity with the #MeToo movement that has swept the country in protest against sexual harassment.
A Kennedy steps up
Democratic Congressman from Massachusetts, Joe Kennedy III — a member of the American political royal family — delivered the customary response of the opposition party to the president's address.
An honour, the delivery of the response has also on occasion dissolved into life-long embarrassment — Bobby Jindal's response in 2009 is widely believed to be among the worst. Then there was Marco Rubio, whose made an ungainly lunge for a bottle of water in 2013.
Kennedy did fine.