Joshimath: Govt says Helang bypass work can restart if technical agencies permit
Jan 21, 2023 03:51 PM IST
The Uttarakhand government has decided to write to the Border Roads Organisation (BRO) to consult the Geological Survey of India (GSI) and the Indian Institute of Technology (IIT), Roorkee, on resuming the work on Helang-Marwari bypass
Amid the land subsidence crisis in the holy town of Joshimath, the Uttarakhand government has decided to write to the Border Roads Organisation (BRO) to consult the Geological Survey of India (GSI) and the Indian Institute of Technology (IIT), Roorkee, on resuming the work on Helang-Marwari bypass under the Char Dham all-weather road project that was halted by the district administration in the first week of January after protests by locals.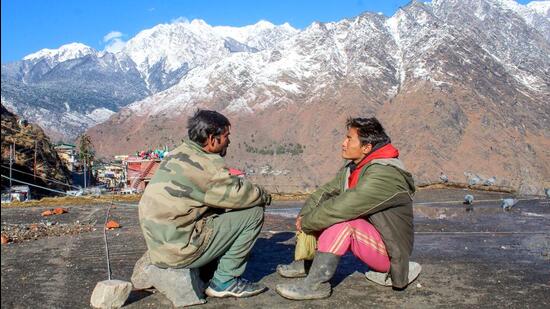 The state's disaster management secretary Ranjit Kumar Sinha told HT, "We will write to the BRO to consult the GSI and IIT, Roorkee if the work on the Helang-Marwari bypass can restart. If the technical agencies give their go-ahead, the work will re-begin."
"Though it won't complete before the upcoming Char Dham yatra season, it is important to keep the work going and ensure its completion on a fixed time. Rather, if the Badrinath-bound vehicles pass through Joshimath amid the land subsidence situation, it can make a negative impact by increasing the burden on the town. It would be unjustified to keep the important work suspended if not making any impact on the ongoing land subsidence situation in the holy town," he added.
A section of the land subsidence affected families and some experts have alleged that digging of earth through blasting in the fragile land for the construction of a tunnel under the town for NTPC's Tapovan Vishnugad hydro project is the biggest culprit behind the sinking of Joshimath. They also allege that Joshimath's base was being shaken by the construction of the bypass between Helang-Marwari, under the Char Dham all-weather road project.
Prime Minister Narendra Modi had laid the foundation stone for Chardham all weather road project in December 2016 to provide all-weather connectivity to four major Hindu shrines of Badrinath, Kedarnath, Gangotri and Yamunotri located in the upper Himalayas of Uttarakhand.
Under the Centre's 12,000 crore ambitious Char Dham project, Helang-Marwari bypass, which is being constructed around 13 km from Joshimath at its foothill, aims to shorten the distance to Badriath by 30 km.
The Supreme Court, in 2019, ordered the setting up of a high powered committee to take a view on whether the Centre's ambitious project needs to be "revised" to minimise its ecological damage. It also appointed noted environmentalist Ravi Chopra as the chairperson of the panel.
On December 14, 2021, the Supreme Court permitted the Union government to construct all-weather roads with 10m width as part of its Char Dham project in Uttarakhand, underlining that "the recent past has thrown up serious challenges to national security", and that wide strategic feeder roads to Indo-China border areas were required for the infrastructure needs of the armed forces.
In February 2022, Chopra resigned from the post of chairperson, expressing disappointment over the permission for "braze widening of roads" under the Char Dham project in the ecologically fragile Himalayas.
In an opinion piece for Hindustan Times, Chopra recently wrote, "In 2020, the high powered Committee (HPC) for the Char Dham Pariyojana reviewed the Border Roads Organisation's proposal to build the Helang-Marwari bypass along a hard-rock portion of the Joshimath hill's toe, arguing that it would reduce traffic congestion in the town and its burden on the sinking area. The townspeople opposed the bypass, fearing its negative impact on their tourism economy, and cited the Mishra Committee recommendation against disturbing the hill's toe. In a compromise, HPC recommended that Badrinath-bound traffic be routed through the town and the bypass be used for returning traffic. While accepting the bypass proposal, it stipulated that construction be preceded by prior large-scale geological, geophysical and geotechnical testing of the rocks along the toe. Apparently, the stipulation was also ignored."
Atul Sati, convenor of Joshimath Bachao Sangharsh Samiti (JBSS), said, "Both GSI and IIT Roorkee are government agencies, they can ask the two agencies to make a favourable report. If they restart the construction of Helang bypass, it would put a burden on the toe of the holy town which is already sinking. It would also activate a new landslide zone."