This Kerala boy has a dose of laughter for all
Account of an engineer-turned-standup comedian who left his full-time job to pursue his passion for comedy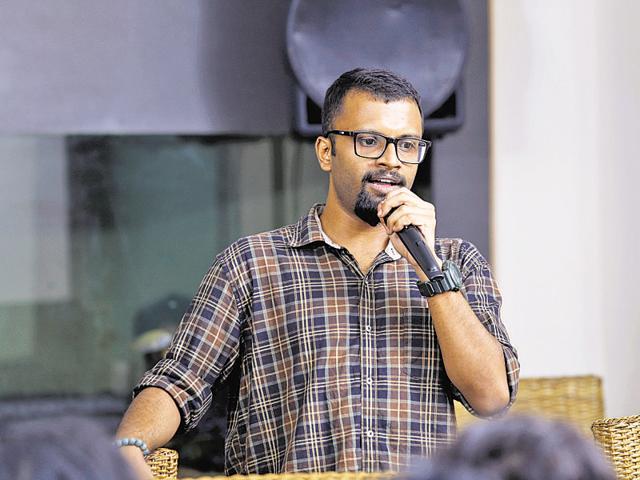 Updated on Jul 06, 2016 04:44 PM IST
Even minutes before this interaction on his passion for standup comedy, George Vivian Paul was busy thinking of funny things he wanted to talk about during his show in the evening. From keeping track of daily news updates to peppering them with jokes to make his audience smile and eventually laugh, Paul's mind is constantly ticking like a clock, working out ways to entertain people.
An engineer-turned-standup comedian – where did it all start for him? After having worked for a little over two years across construction companies in various cities across the country as a civil engineer for a period of a little over two years, Paul stopped getting "excited" about his full-time job. As he puts it, "I just did not have any incentive to wake up in the morning to go to work as a civil engineer. Moreover I felt I did not belong in a site. I now for the first time can say I really do enjoy my work. As a comedian, the moment when a joke works is the most gratifying, it far outweighs monetary benefits."
Kerala-boy Paul has always been fascinated by standup comedy, loving the thought of feeding jokes to a live audience, often using colloquialisms. A large part of his friends' circle comprised of comedians and it was through them he came to know about the demand and love for comedy shows in the City of Joy. He is currently working together with 'Kalkutta Komedians','Comedified', Kolkata-based comedy groups and 'Kochin Komedians' based in Kochi, Kerala.
Read more: Can 90% in Class 12 English make life easy in college?
After performing a few shows in Kolkata, he met the founder of Kalkutta Komedians who was willing to start Kochin Komedians where Paul could perform. So, he decided to take the league to Kerala. Kerala is a hugely unexplored treasure for stand-up comedy, he says. "The audience is very progressive and mature and probably will welcome a source of entertainment that challenges their intellect by humour. Keralites are already accustomed to Chakyar Koothu, an ancient art form which can be related to stand-up comedy that finds its audience even today during festivals like Onam," adds Paul.
Is it easy to make people laugh? "Well my experience made me learn the hard way that it is immensely hard to make people laugh. To instantly connect with complete strangers and intrigue them enough get an applause is an extremely laborious process," he says and quickly adds that the best way it works is to "Be comfortable with the mike and speak about things that I would normally do with my friends and family, just articulate them a little while on stage."
Paul believes that there are many similarities between people in Kolkata and Kerala – from cuisines to clothes and the "effervescence of communism." He tries to exploit these similarities to connect to his audience through his humorous take on life and how it should be lived.
A happy-go-lucky energetic person, this 27-year old is busy performing in shows in these two cities.
Read more: E-commerce: Where are the jobs?
Paul does his best to ensure that every show he does is better than his previous shows. "I record my performance in the phone and listen to it later and take notes and improvise on areas I think I could have done better."
Before he gets going for his show, he says that taking this leap of faith from quitting his full-time job to be a startup comedian would not have been possible without all the support and faith shown in him by his loved ones – his mother and sister.
Close Story