Can 90% in Class 12 English make life easy in college?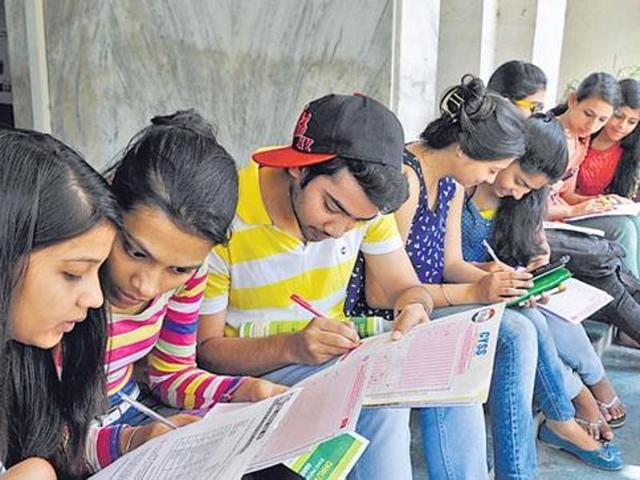 Updated on Jun 24, 2016 03:24 PM IST
A few years ago, notching up a high score in English was tough, but going by the CBSE Board results now, there's nothing great about getting 90% now. However, the question is, would students with such scores find it easy to do as well in English during graduation?
While securing admission in a top-notch college with 90% score becomes easy, a good score might not be an indicator of a student's aptitude, say experts. They suggest that separate entrance tests be held across state universities for admission to English literature.
"The class 12 exams are more about one's language skills. The skills tested in a school leaving exam are very different than the skills required to do well at graduation level. Cut-off marks are not the best criteria to take in students," says, Dr Pratibha Jolly, principal, Miranda House.
"Getting a 90% is good as far as the literary graph is concerned, but as long as the in-depth knowledge of literature is concerned, the students are not up to the mark," says Feroz Bakht Ahmed, English teacher, Modern School. Class 12 exams are not the test of in-depth knowledge of subject, literary nuances or your know-how of the real story sense."
Agreeing to this, Debraj Mookerjee, associate professor, Ramjas College, says, "The board exam marks are completely non-reflective of their ability in the subject. It is not a measure of their scholastic aptitude. The CBSE marks are poor indicators of the scholastic ability of a student. They make a very good school leaving certificate, but it doesn't tell us much about the aptitude of a student to study English, or for that matter any subject. You need to have a scholastic aptitude test for students planning to go for higher education."
Read more: Dip in St Stephen's cutoff may not affect DU list
As the cut-offs across state universities soar, most of us often end up criticising the respective universities. However, as Mookerjee says, "What do we do? We are bound to admit students who get the required cut-off. If 90,000 students get above 90% marks in Class 12 and admit close to 30,000 students in the university, obviously, for popular courses we are bound to have such cut-offs, how else do we admit students? Cut-offs are the function of marks CBSE gives students."
While it is easier to get the perfect score in subjects such as science and mathematics with objective-type questions, how do students manage 90% (and more) in English?
As Ahmed says, "Let us not take the credit away from students scoring well, the high marks are largely because of the pattern of the question paper."
In the reading and the literary section, the questions are of objective type – usually comprising of passages from poetry requiring one line questions on pointing out a simile or a metaphor in a line or personification, or the name of the poet that almost every student can answer correctly. The only section wherein an examiner can deduct marks is the one requiring long answers. Also, CBSE gives a blueprint to examiners saying that if a student mentions touches a few given points in the long answer type question then, according to the parameters of the board, they can get full marks in those too, say experts.
A Combined Aptitude Test for English (CATE) to test applicants for English was scrapped by Delhi University in 2013 when the four-year undergraduate course was being introduced. Several colleges, including Lady Shri Ram College for Women, Rajdhani College, Kirori Mal College and Vivekananda College used to admit students through CATE scores. Now all admissions to English courses in Delhi University colleges happen through merit. Dr Saitya Brata Das, associate professor and chairperson, Centre for English Studies, School of Language, Literature & Culture Studies, Jawaharlal Nehru University, says, "Merely knowing a language and getting 95% or 96% in board is no indication of the student's idea about the subject. More and more universities should adopt JNU's policy to ensure quality and diversity. Entrance tests should be applicable even at the BA level to ensure better quality of students."
Mookerjee too says that there should be a national scholastic ability test for admission to English courses, "If you can have separate entrance tests for MBA, engineering, legal studies and medical, why not for college admission?"
CATE was well-devised and looked at a candidate's creative writing skills and comprehension with nuanced understanding of literature. That is the competence students must have when they come into higher education, that too a literature course. But, given the large number of applications in DU, organising a subjective test like CATE and getting very little time to mark papers pose problems, says experts. As such there is too much emphasis on exam performance.
"Our system is not student-centric. When you have smaller systems, you can be student-centric – perhaps talk to the applicant, look at the portfolio of achievements, recommendations, check her creative writing skills. This is not easy to do for a large number of applicants. Having more and more tests is no solution. School leaving exams need to be revamped. We don't need multiplicity of tests. The school leaving exam should be able to differentiate students for different abilities. That is where the competencies should be sieved through," Jolly suggests.
Close Story