India's drugs regulator has approved the use of two coronavirus vaccines – Corbevax and Covaxin – in children under the age of 12 but the government is yet to expand the coronavirus vaccination drive to this age group.

Are deaths rising again too? What role is the global vaccination drive playing in protecting people? Here are three sets of charts that explain this.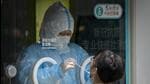 With the new cases, Delhi's Covid-19 caseload increased to 19,02,180, while the death toll rose to 26,199.

The official Korean Central News Agency said more than 1.98 million people have become sick with fever since late April.

When Omicron hit, Singapore didn't backtrack on its reopening plans but rather decided to wait and see how things panned out. Noting that response was different versus the Delta outbreak, the island city has learned from its past experiences of dealing with Covid variants