The man she was in a relationship was arrested in an abduction case shortly after the couple was tracked down after eloping, said police.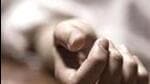 While the victim is currently recuperating in a hospital where she is out of danger, a manhunt has been launched to nab the accused.

Telangana chief minister K Chandrashekar Rao, or KCR, declared 'nobody is happy (with the central government)... and there will be change at the national level (a reference to the 2024 Lok Sabha polls)... nobody can stop it."

Written by Ishika Yadav | Edited by Chandrashekar Srinivasan
Hyderabad traffic advisory: Elaborate security arrangements have been put in place for Modi's visit.

Neeraj P, a member of the Marwadi community, married Sanjana, who was from the Yadav community, last year in a temple against the wishes of her family, police said