Jamshedpur FC eye revenge against FC Goa in Super Cup quarterfinal
After upsetting the I-League champions Minerva Punjab FC in Super Cup Round of 16, Jamshedpur FC will go all guns blazing against FC Goa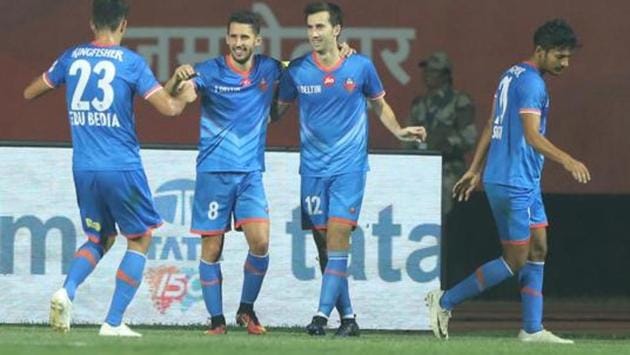 Updated on Apr 11, 2018 06:54 PM IST
Having lost the last time, Jamshedpur FC will look to settle scores when they lock horns with fellow Indian Super League side FC Goa in a Super Cup quarterfinal match in Bhubaneswar on Thursday.
"Revenge is not the right word which I should say. We just have another opportunity to try our level best and win tomorrow's game. We're here to progress in the tournament and we can accomplish that only by winning tomorrow's game," said Jamshedpur coach Steve Coppell.
READ | Bengaluru FC defeat Maldives' New Radiant SC in AFC Cup
After upsetting the I-League champions Minerva Punjab FC in the Round of 16, the ISL debutants will go all guns blazing.
"We had a long time to recover from our last match and we are in a good shape physically. We're rearing to give it a shot tomorrow," Coppell said.
Meanwhile, the astute gaffer further added that it's tougher to keep possession rather than winning it and they'll set the strategy accordingly.
"According to me, the easiest thing is keeping the possession. But I would say, it's tougher to keep the ball with you than chasing it.
READ | East Bengal beat Aizawl FC to enter Super Cup Semis
"The team who has the ball need to work harder to keep the possession. We'll play to the best of our physicality and ability to perform."
Nonetheless, FC Goa, who overturned ATK in their previous match, are rating their opposition highly.
"They are a very good team and a good bunch of players are there in Jamshedpur. They're defensively very organised. But, we are also here to show our worth and what I strongly feel, we are ready for the match," FC Goa player, Pronay Halder said.
Eloquent coach Derrick Pereira informed that they have a few niggles but not major injury woes before the humdinger.
READ | Will try to submit report on AIFF by April 18, says SC-appointed administrator
"I can't say that we're missing any player tomorrow. But there a few niggles. We can take the final call only tomorrow," Pereira said.
"The important part is that the team have regrouped well and they're working hard. The team is eager to put up a good performance and progress further to the semifinals," he added.
Close Story