A year after Dera verdict, followers keep Gurmeet Ram Rahim's Rs 2,100-crore empire afloat with donations
Updated on Aug 25, 2018 02:38 PM IST
A year after he was jailed for two decades, Gurmeet Ram Rahim's Rs 2,100-crore empire is surviving on donations doled out by followers, while ED and IT authorities keep a close watch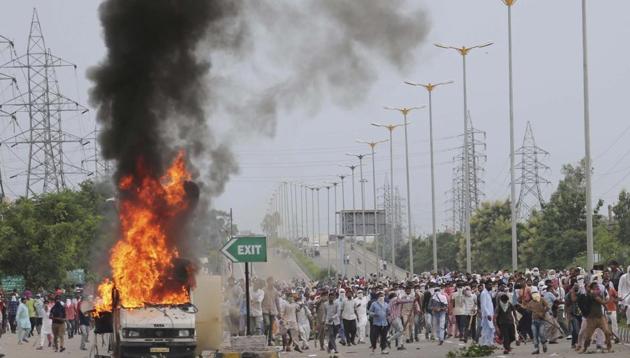 Out of sight but not out of mind.
Jailed for 20 years for raping two sadhvis (woman followers), Gurmeet Ram Rahim Singh may no longer be at the helm of his Rs 2,100-crore business at Dera Sacha Sauda. But billboards dotting Sirsa's Begu Road, greeting him on his 51st birthday on August 15 are a reminder of the following he still enjoys. Criminal charges in three other cases may have dashed his comeback prospects but the loyalists keeping institutions going at the 800-acre sect headquarters have not lost hope.
Every year, the dera head would sit on an ornate, elevated podium to bless followers during the naam charcha (congregation) but this Independence Day, his followers put up billboards and about 40,000 gathered at the sect headquarters to celebrate his birthday, keeping intelligence agencies on toes. Giant LED screens beamed the baba's antics. "Call it blind faith or whatever, but it was astonishing," admits an official monitoring the gathering.
Dip in morale
The dera head's arrest followed by violence unleashed by angry supporters in Panchkula — where the special Central Bureau of Investigation court held him guilty for rape— and Sirsa on August 25 last year hit the morale of his followers, who are known as premis.
The freezing of the dera's bank accounts and attachment of assets meant that the sect lost its financial muscle, too.
These setbacks crippled the dera's economy and brought bad publicity, while eroding Ram Rahim's support base and battering his political worth. A year on, the dera continues to gasp for breath, trying to defy a slow death. "For thousands of Ram Rahim's supporters who come from underprivileged sections of society, there is no other option. The dera is their only hope," says a Sirsa district official, requesting anonymity. Prakash Singh Salwara, the editor of dera magazine Sach Kahun, says premis continue to engage themselves in public welfare despite the turmoil within.
"Followers planted 25 lakh saplings across the country and abroad on August 15 to celebrate our sect head's birthday. Nowadays, followers in southern states are busy facilitating relief for the flood-hit victims of Kerala.
Economy takes hit
With accounts frozen and assets attached, the dera is depending on donations.
"We depend on donations from followers, in cash and in kind, to stay afloat. The sangat provides ration for meals of followers. Whatever they contribute monetarily helps us pay the bills," says a former dera officebearer, requesting anonymity. Dera spokesperson Ajay Dhamija declined comment.
Sirsa deputy commissioner Prabhjot Singh says educational institutions and hospitals inside the dera have been functioning under the supervision of the district administration. An ad-hoc governing body, chaired by him, runs the institutions.
The Punjab and Haryana High Court, which is monitoring the matter, has asked the managing committees of the educational institutions to approach the ad-hoc governing body for funds to pay the staff.
Women take charge
With most of its top leadership behind bars or on the run, dera senior vice-chairperson Shobha Insan has been thrust into the leadership role. "Initially, dera chairperson Vipassana took charge but is reluctant to continue for health reasons," says a Sirsa-based follower. Shobha has a team of sadhvis to assist her in carrying out day-to-day functioning. "Shobha has been associated with the dera since childhood. A sadhvi herself, she is ideal to lead the sect in this hour of crisis," says another follower. The probability of Ram Rahim's son, Jasmeet Insaan, taking over the reins of the dera is remote. "He does not seem interested. There is no precedent of such a succession in the dera," an intelligence official says.
Properties probed
The Enforcement Directorate (ED), which is investigating the personal accounts of Ram Rahim and his associates for money laundering, said in a recent status report before the high court after scrutinising documents related to land acquisition by the dera that 293 acres of farm land were acquired by way of donation from farmers and the power of attorney was executed in favour of three dera staff members. These three subsequently gifted these lands to the dera by way of gift deeds.
Personalise your news feed. Follow trending topics