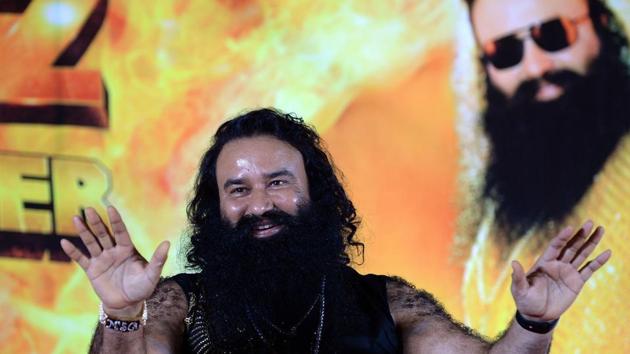 Dera chief Ram Rahim held guilty of rape, sentencing on Monday
The quantum of punishment for the Dera Sacha Sauda chief, Ram Rahim, will be decided on August 28.
UPDATED ON AUG 25, 2017 07:34 PM IST
At least 28 people were killed of purported bullet injuries inflicted by security forces here on Friday when clashes broke out in this Haryana town after a court convicted Dera Sacha Sauda sect leader Gurmeet Ram Rahim Singh of raping two of his followers 15 years ago, sparking fury among thousands of supporters who had gathered days ahead. There was one death reported from Sirsa, the headquarters town of the sect in Haryana, too.
As news of the conviction spread, there were reports of violence in the neighbouring state of Punjab andalso Delhi and Uttar Pradesh, besides Rajasthan.
The quantum of punishment is to be announced on Monday; meanwhile Ram Rahim was taken to Rohtak in a helicopter where he has been jailed in a resthouse of the Police Training Centre in Sunaria village.
In Panchkula, concurrently, hundreds of police and paramilitary personnel used force after his followers torched cars, threw rocks and attacked television vans, breaking their windows and overturning one, for around three hours after the verdict was announced around 3pm in this satellite town of state capital and UT Chandigarh. Eventually they were pushed out to a neighbouring Punjab town, Zirakpur, from where, not violent but dejected, they took buses back home.
More than 1 lakh were estimated to have gone to the city, where the Central Bureau of Investigation (CBI) court was located. Of the deaths in the Panchkula action, 17 bodies were reported from the local government hospital, and seven and four from two hospitals in Chandigarh by police and medical officers.
Authorities imposed an indefinite curfew in Panchkula, where mobile internet services had earlier been cut off and troops deployed ahead of the verdict.
There was curfew in at least three towns in Punjab, and also in Sirsa. "Two train stations have been burnt in Punjab and two empty (train) coaches have been set on fire in Delhi's Anand Vihar station," said Neeraj Sharma, a spokesman for Indian Railways.
Hundreds of trains passing through Punjab and Haryana have been cancelled, he said.
Prosecutor Harinder Pal Singh Verma told AFP that Ram Rahim was "calm after the verdict was passed".
The 50-year-old self-styled godman is known as the "guru in bling" for his penchant for bejewelled costumes. The rape case was brought against him after an anonymous letter was sent to then prime minister Atal Bihari Vajpayee in 2002 accusing him of repeatedly raping the sender and several other women in the sect.
A judge asked the CBI to look into the accusations, but it took years to trace the victims and it was not until 2007 that two women came forward and filed charges.
He is also accused in two murder cases, and of encouraging 400 followers to undergo castration at his dera so they could "get closer to God".
Speaking before his conviction, supporters who had gathered in Panchkula credited him with turning their lives around, with some saying his organisation had helped them kick an addiction to alcohol.
(With AFP inputs)
Close