The first pay-per-view event of 2022, WWE Day 1, saw Brock Lesnar become the new WWE Champion after he pinned Big E in a fatal-five-way match.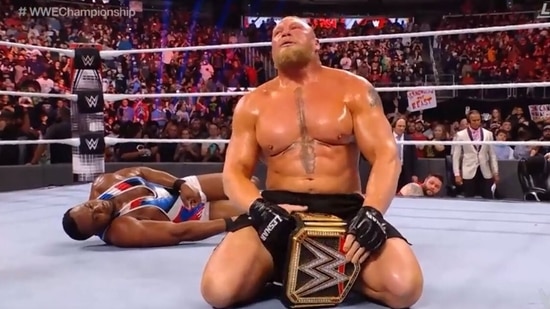 Updated on Jan 02, 2022 09:47 AM IST
WWE Day 1 LIVE streaming: WWE is ready for yet another action packed year, kicking off 2022 with the first pay-per-view event Day 1.

Published on Jan 01, 2022 05:06 PM IST
Former WWE SmackDown Women's Champion Bianca Belair speaks to Hindustan Times in an exclusive interview on her upcoming historic match at the WWE Crown Jewel event in Saudi Arabia.

Updated on Oct 08, 2021 08:20 PM IST
The 7ft 2 in giant has little wrestling experience, but he will have the chance to train alongside veterans like QT Marshall, Dustin Rhodes, and Cody Rhodes at the Nightmare Factory.

Published on Oct 04, 2021 10:39 AM IST
In a reply to a question asked by Hindustan Times during a media call, Big E said that he is 'really excited' to see Reigns vs Cena at WWE SummerSlam, but hinted he may seize his opportunity to cash in the contract.

Published on Aug 21, 2021 10:01 AM IST
Former WWE champion CM Punk made his long-awaited return to pro-wrestling after a wait of over seven years.

Updated on Aug 21, 2021 08:08 AM IST
The 10-time Women's Champion, Charlotte, daughter of the legendary Ric Flair, has been the leader in the women's locker room ever since she arrived on the main roster in 2015 from NXT.

Published on Aug 20, 2021 07:33 AM IST
Since his WCW days, it has not been easy to beat Goldberg in the ring - and to even consider that you can make him tap out in the squared circle is a question no one dares to ask. Unless, of course you are 'The Almighty' Bobby Lashley.

Published on Aug 19, 2021 08:18 AM IST
In a recent interaction, Kavita Devi set the story straight. She clarifies her position and also speaks about her future with the company.

Updated on Jun 01, 2021 06:06 PM IST
In an exclusive conversation with Hindustan Times, Triple H talked about his return and his future. Triple H also talked about Brock Lesnar's WWE status while commenting on the speculations about a Roman Reigns vs The Rock dream match.

Published on Jan 25, 2021 12:46 PM IST
The unique showcase of Indian-inspired action specially produced for viewers in India will emanate from the state-of-the-art WWE ThunderDome.

Published on Jan 15, 2021 08:06 AM IST