Andhra Pradesh and Telangana are in the midst of a brutal crackdown on dissent
Updated on Jun 08, 2017 06:34 PM IST
Telangana's chief minister KCR's legendary battles with his Andhra Pradesh counterpart, Chandrababu Naidu.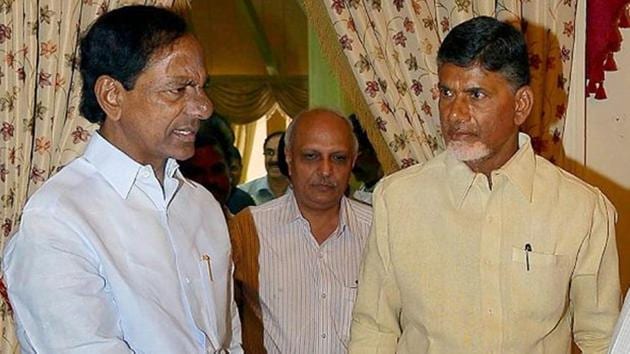 Hyderabad |
GS Radhakrishna
On May 15, opposition parties and local residents around Indira Park got into a fight over Telangana CM K Chandrashekhar Rao's (KCR) decision to relocate Dharna Chowk, a popular protest space opposite Indira Park in Hyderabad, to the city outskirts.
In February, the ruling Telangana Rashtra Samiti (TRS) had decided to shift Dharna Chowk, claiming residents had expressed displeasure over traffic snarls and blaring loudspeakers. Now, a furious and united Opposition had obtained police permission to protest, but they didn't expect a shrewd move by the CM. The police had allowed various colony residents and Church representatives to also protest simultaneously to reclaim 'peace' at Indira Park. A verbal duel between both protest groups soon deteriorated into hurling of chairs and fisticuffs, and the police moved in with a mild lathi charge to disperse everyone.
This isn't the only way KCR suppresses dissent in Telangana.
On April 28, Telangana Joint Action Committee chairman Kodandaram was arrested to prevent him from joining the farmers' agitation at Mothkur market near Suryapet, about 110 km from Hyderabad. Earlier, on February 22, 2017, Hyderabad police arrested him to stop him from leading the 'nirudyoga nirasana' (protest of unemployed youth).
When Kodandaram asked the police to wait while he used the toilet, they refused, smashing the door to enter. After being lodged in several police stations, he was finally sent to Kamathipura station. "I am neither a terrorist nor an extremist or a criminal. But I was treated like one even when I offered to go with them after completing nature's call," Kodandaram told the media later.
Read more | Rare bonhomie between Chandrababu, KCR during Amaravati event
The former political science professor, who guided TRS during the Telangana movement, became unpopular with the party and KCR after the state's formation, for quizzing them on unfulfilled promises such as jobs.
Before this year's budget session, KCR had reportedly issued a diktat to party to file FIRs against the media for publishing "fake news" to ensure that people understood the 'correct' image of the government.
Neighbouring Andhra Pradesh is witnessing a similar drama. On April 21, the AP police arrested Inturi Ravi Kiran, a Hyderabad political satirist. His Facebook page 'Political Punch' had made fun of CM Chandrababu Naidu and his son Nara Lokesh. A meme that irked officials depicted Lokesh asking his father to send him to the AP Legislative Council. It replaced the board's photograph with that of a couple kissing, bearing the caption, 'Adults Only'.
"Ravi Kiran was picked up from his home by the Guntur police and booked for caricaturing political leaders under Section 67 of the IT Act and Section 292 of the IPC," said Narayan Naik, Superintendent of Police, Guntur (Rural). Ravi Kiran has now been let off on bail.
When the Opposition came to his defence, the TDP blamed Kiran for being pro-YSR Congress (YSRC). After back-and-forth between TDP and YSR Congress, those who were brave enough to comment on social media were silenced.
This is not new. In 2011, Naidu and his men approached the Press Council of India with complaints against the Sakshi group (owned by YSRC chief and Opposition leader Jagmohan Reddy) for their alleged campaign against Naidu and TDP.
After the government's ban on Sakshi TV and the witch hunt against Reddy, others have fallen in line. "The government wants us to ignore public issues and protests which [they] applauded when Congress was in power," said K Ramchandra Murthy, editor of Sakshi group of publications.
A great irony is playing out in both states. Both TDP and TRS came to power with a populist agenda, as well as criticising the Congress' dynastic politics and corruption. Over the last couple of decades, they have turned into mirror-images of the party they once denounced.
Unsurprisingly, both Naidu and Rao owe their careers to Congress.
In AP, Chandrababu Naidu entered politics as a student. He was a Youth Congress leader in Chittoor and later, a Congress MLA from Chandragiri. He was also the cinematography minister in Chief Minister T Anjaiah's cabinet. After losing elections in 1982, he switched to the TDP, started by his father-in-law, actor NT Rama Rao. Naidu was born into a farmer's family, but he grew to take on powerful posts in NTR's government. "Chandrababu never tolerated if someone else did better than him in business and politics. That is the cause of hostility between him and his once best friend, YS Rajasekhara Reddy [former CM]," said Karunakar Reddy, former Tirupati MLA.
TRS supremo K Chandrasekhar Rao, a member of the powerful Velama caste in Telangana, too was a Youth Congress leader in the Sanjay Gandhi bandwagon, before switching to TDP in 1983. He participated in the famous 'August revolt' of 1995 — a successful bid for power by Naidu against his father-in-law. But Naidu made the mistake of giving him the deputy speaker's post instead of the ministerial berth Rao wanted. KCR left TDP in a huff. "Had I given him a cabinet post, there wouldn't have been any TRS or Telangana movement," Naidu has often said.
In their non-Congress avatars, both Naidu and KCR have clearly emulated Congress.
KCR has inducted son KT Rama Rao and nephew T Harish Rao into the cabinet and made his daughter K Kavitha, a Nizamabad MP. Naidu has elevated his son Nara Lokesh as Panchayati Raj Minister within a week of him becoming an MLC and Lokesh's father-in-law Balakrishna as Hindupur MLA.
Naidu's Way Or The Highway
In AP, according to analysts and Opposition leaders, democracy exists only for TDP.
Naidu told a TDP politburo meeting in April that the party had bagged 16 percent of YSRC's popular votes in the last two years and could soon wipe out their vote bank. "Naidu's achievement is through the backdoor. He bagged our votes by making 21 YSRC MLAs and 2 MPs defect," said Ambati Rambabu, YSRC spokesman.
After YSRC boycotted the foundation-laying ceremony of Amaravati, the state administration unofficially shunned them by not inviting them for any events. "The government denied privileges like ration cards, pensions and sops. Defeated TDP candidates enjoy more power in our constituencies than we do," said RK Roja, YSR Congress MLA from Nagari in Chittoor.
Naidu is also perhaps the only CM who has taken local media on foreign trips in the guise of development reporting and to change their 'mindsets'. During 1995-2005, he took select media teams to Dubai, Malaysia, China and Singapore, and a large contingent of almost 50 scribes in two batches to Singapore, after he finalised the deal in 2014-15 with several MNCs for building Amaravati.
Read more | Division day: KCR says Telangana 'richest', Naidu vows to make Andhra great again
Naidu's hardened approach involves not tolerating any criticism of corruption. Even the Amaravati land scam, in which Naidu's son and other TDP bigwigs have been implicated, was made to look like the farmers gave away land voluntarily (at least 20,000 acres has been amassed).
In the same breath, his intolerance towards erring reporters, independent journalists, the Opposition and ruling party legislators is legendary. Journalists who ask even remotely tough questions are not invited for press meets thereafter. "Brother, change your mindset. Don't be negative," he warns journalists gently, but lethally. "Naidu tries to convince a legislator or a scribe to come his way. If they refuse, Naidu uses his power to thwart their survival," said a senior TDP minister, who didn't want to be named.
The TDP supremo is now developing a different kind of rapport with the media.
It is widely rumoured that Naidu was a proxy investor in Andhra Jyoti and ABN Channel. In 2013, Naidu's son Lokesh headed Telugu news channel Studio N to promote TDP. When that didn't pan out, Naidu had Sujana Chowdhary financially take over Maha TV floated by I Venkat Rao, a well-known TDP sympathiser. HR resources were moved from TDP to Maha TV for its campaign in 2014.
Naidu also keeps party men in line with a report card on MLAs and ministers. Recently, he dropped five ministers, including the Information & Public Relations minister, Palle Raghunatha Reddy, once his favourite from Anantapur. "I even touched his feet," lamented Palle. He was told to improve, but was later sacked. These surveys are made public by Naidu at TDP review meetings.
Read more | After Andhra CM, KCR to be immortalised in biopic on the Telangana movement
KCR All The Way
In Telangana, Opposition leaders aren't allowed to voice their dissent. "There is no scope for criticism in either House and legislators are summarily suspended for even criticising the Governor's address," said Sandra Veeraiah, TDP legislator, who was suspended in the last Budget session along with Revanth Reddy.
But Telangana has no effective Opposition to begin with. The Congress, despite being the second-largest (19 MLAs and seven MLCs in both Houses), has lost face among voters. The TDP has just three MLAs. The BJP with five MLAs functions alone, but it's often stumped by the possibility that in 2019, the national leadership could tie-up with KCR.
Telangana's second-most powerful party, the Majlis-e-Ittehadul Muslimeen (MIM) with seven MLAs and one MP, is an invisible ally. But MIM isn't happy with KCR as they fear his whims and fancies. Now with 12 percent reservation to Muslims in Telangana, the MIM feels obliged by TRS to tow its line.
Like Naidu, KCR too is intolerant towards media. When TV channels criticised him and ran satirical programmes, for reneging on his 2013 election promise of appointing a Dalit as CM, KCR blocked TV9 and ABN. An unofficial ban on ABN continued for a year.
Both ABC and TV9 appealed to the national broadcasting authority (NBSA) and Union Information and Broadcasting Ministry which didn't budge, while the government feigned innocence. Finally, TV9 got a reprieve after nine months and ABN after almost a year (cable operators didn't beam both channels across Telangana) — both channels registered huge losses.
When Telangana was formed, government employees, educational institutions, hospitals, hotels, theatres and apartments belonging to Andhra natives were attacked. Remaining spectators, KCR and Telangana police advised Andhra natives to accept "the ground reality and make alternative arrangements".
Their clique then began a witch hunt to weed out detractors in administration and industry. It's allegedly why Hyderabad Metro work was stalled for over a year as L&T wouldn't compromise with changes in route. When the business community showed signs of exiting, his son KTR intervened and appeased them.
KCR even fears his own party planning a coup. This comes from a reading by KCR's analysts who conduct surveys on cadres and ministers, every second month. Harish Rao, who has been with KCR since 2002 and a minister in the YSR government, was rumoured to be planning a coup (later denied by Harish). He was reportedly brought under check by KTR.
Read more | How Andhra-Telangana rivalry has enriched PV Sindhu by crores
The CM also monitors the party regularly to nip any dissent. He had sacked his deputy CM and Health Minister T Rajaiah for corruption and inducted a TDP leader from the same district, Kadiyam Srihari, who defected just to replace Rajaiah. The CMO also employs several agencies to conduct surveys among MLAs, officials and ministers frequently, and the same is analysed by a team in KCR's home. One such survey in March predicted a bumper outcome of 106 seats of 119 to TRS if elections were held now or in 2019.
"The fact that KCR is frequently claiming that TRS will return to power again in 2019 and has the groundswell of popular votes indicates that there is something wrong with the party. Everyone fears KCR and his doom is certain once the party fails to deliver what it has promised," said BJP leader G Kishan Reddy.
(Published in arrangement with Grist Media)
Close Story
Personalise your news feed. Follow trending topics