Rare bonhomie between Chandrababu, KCR during Amaravati event
Updated on Nov 23, 2015 02:35 PM IST
A rare bonhomie between chief ministers of Andhra Pradesh and Telangana, N Chandrababu Naidu and K Chandrasekhar Rao respectively, was all too evident at the foundation laying ceremony for the new capital for Andhra Pradesh, Amaravati, on Thursday.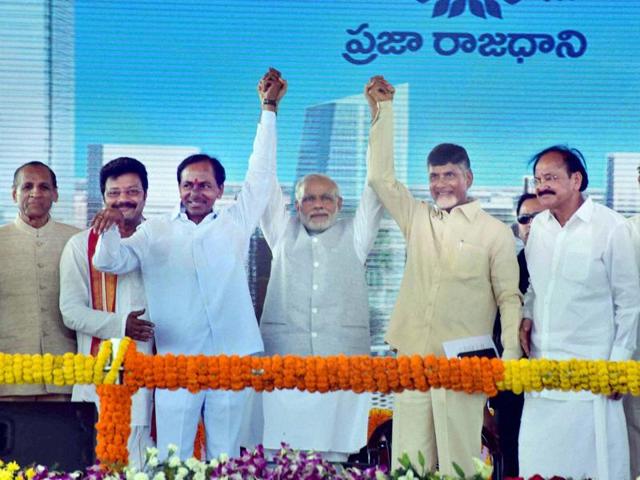 PTI |
, Uddandarayunipalem, Guntur
Prasad Nichenametla
A foundation was laid and an attempt to bury a neighbourly hatchet was made on Thursday as Telangana chief minister K Chandrasekhar Rao attended the formal ceremony to build the new capital of Andhra Pradesh.
The Telangana Rashtra Samithi chief is not a loved man in these parts of Andhra and people still hold a grudge against him for leading a movement that resulted in the bifurcation of the state. They paint him as the prime villain for truncated Andhra losing even its capital, Hyderabad, to Telangana.
Since the split in June 2014, the two states led by Nara Chandrababu Naidu and Rao have been sparring over a raft of issues such as power and water.
Relations hit the floor following allegations that the Telangana government was tapping phones of Naidu and his bureaucrats this June, with both chief ministers accusing each other of moral turpitude.
But it was Naidu who broke the ice a few days ago and invited Rao to the foundation-laying ceremony. The rival readily obliged.
On Thursday, Rao was on the stage along with Prime Minster Narendra Modi and Naidu.
The bonhomie didn't go unnoticed and none other than Modi highlighted the benefits of the two chief ministers staying friends.
"When I read in newspapers that Naidu went to Rao's residence and invited him to Amaravati, I was very pleased. The two states should work together to realise their true potential," the Prime Minister said in his speech.
"Be it Andhra Pradesh and Telangana, their soul is Telugu. They are its wings and development and fast progress of both will help enhance the country's image."
When Rao's turn came, a loud cheer greeted him rather than the jeers reserved for him in Andhra.
"On this auspicious day, I wish Amaravati a great future. My government will extend all possible support in the construction of the capital," he said. More applause followed.
The first thing Modi did after landing at the venue was meet NDA partner Naidu's family — wife Bhuvaneshwari, son Lokesh, daughter-in-law Brahmani and toddler grandson Devansh.