Bihar govt hands over probe of soil scam, involving Lalu and Tej Pratap, to vigilance bureau
Oct 21, 2017 04:45 PM IST
The scam relates to the alleged purchase of soil worth more than Rs 90 lakh by Sanjay Gandhi Biological Park in Patna from a firm associated with Tej Pratap Yadav without floating any tender
The Bihar government has decided to hand over the investigation of soil scam case, allegedly involving Rashtriya Janata Dal (RJD) chief Lalu Prasad and his son Tej Pratap Yadav, to the Vigilance Investigation Bureau (VIB).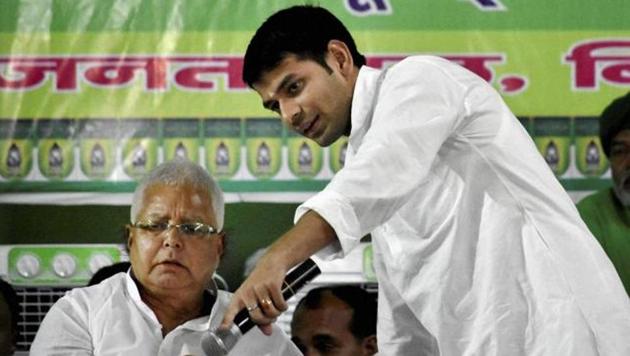 The scam relates to the alleged purchase of soil worth more than Rs 90 lakh by Sanjay Gandhi Biological Park in Patna from a firm associated with Yadav without floating any tender.
Then purchase was made during Yadav's tenure as minister of the forest and environment department, which controlled the biological park.
The decision to hand over the probe to the VIB comes a week after the Patna high court directed the Bihar government to file an action taken report in the soil scam case within six weeks.
A division bench of the high court had passed the order while hearing a public interest litigation (PIL) petition seeking an independent inquiry, either by the CBI or a judicial commission. On October 13, the division bench of chief justice Rajendra Menon and justice A K Upadhyay sought a status report from the government on the inquiry into the soil purchase scam.
Petitioner RS Singh Sengar, an advocate, had complained of "gross irregularities" in the purchase of soil for the beautification of the biological park. He alleged that the soil was lifted from a site near Ram Jaipal Nagar Mor, where Patna's biggest mall is being constructed by a firm — LARA Projects Private Limited — in which Prasad's wife Rabri Devi and their younger son Tejashwi Prasad Yadav are shareholders .
Sengar has named chief secretary Anjani Kumar Singh, principal secretaries of the environment and forest, urban development departments and Sanjay Gandhi Biological Park director Nand Kishore, among others, as accused.
Vigilance sources, however, said the department was yet receive any communication from the state government to conduct the probe.
The land for the proposed mall is under the scanner of the Income Tax department, CBI and the Enforcement Directorate as it is allegedly linked to the IRCTC hotels-for-land scam case of 2006 when Prasad was the railway minister.
The construction of the mall has since been stopped by the Union environment and forest ministry.
Soon after senior BJP leader Sushil Kumar Modi, who is now deputy chief minister, alleged irregularities in the purchase of soil on April 5, the Bihar chief secretary asked the state forest department to furnish documents related to the deal.
On April 21, however, the chief secretary said no evidence of irregularities was found in the initial investigation by the biological park. He said the firm which supplied the soil claimed that it was sourced from five different places.